Sazón Rub
Steven Raichlen
Puerto Rico may be a US territory, but its food palate is rich with international flavors. Like this pig powder. No pit boss in Puerto Rico would dream of making lechón asado (pit-roasted pig) or even grilling steaks or chicken without first sprinkling them with a seasoned salt called sazón (sometimes called adobo). The basic ingredients include salt, pepper, cumin, and garlic powder; each grill master brings his own twist. You can buy bottled sazón at ethnic markets and most supermarkets, but the commercial brands are loaded with MSG. Here's a quick sazón that's bursting with Spanish Caribbean flavors, yet versatile enough to season anything.
Print
Sazón Rub
Recipe Notes
Yield: Makes 3/4 cup
Equipment: mixing bowl
Ingredients
1/3 cup coarse salt (sea or kosher)
2 tablespoons freshly ground white pepper
2 tablespoons freshly ground black pepper
2 tablespoons dried parsley
1-1/2 tablespoons ground cumin
1 tablespoon dried oregano
1 tablespoon garlic powder
1 tablespoon onion powder
Recipe Steps
Step 1: Combine the ingredients in a bowl and stir or whisk to mix.
Step 2: Transfer to a jar, cover, and store away from heat and light.
Recipe Tips
Keep sealed and this sazón will keep for several weeks.
Use as you would any seasoned salt. Pork, chicken, and steak are the most predictable choices, but I use it pretty much on everything else.
Find This Recipe
And More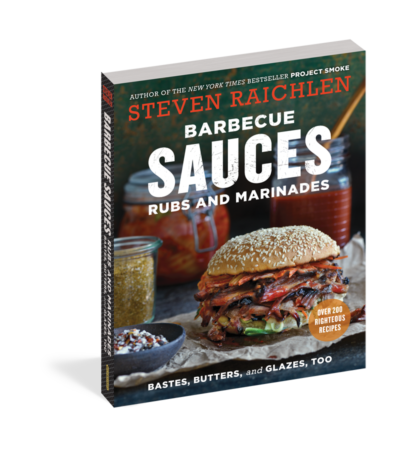 Barbecue sauces, rubs, and marinades are every griller's secret weapon—the flavor boosters that give grilled food its character, personality, depth, and soul. Steven Raichlen, America's "master griller" (Esquire), has completely updated and revised his bestselling encyclopedia of chile-fired rubs, lemony marinades, buttery bastes, pack-a-wallop sauces, plus mops, slathers, sambals, and chutneys. It's a cornucopia of […]
Buy Now ‣