"Shepherd's Tacos" (Tacos al Pastor)
Steven Raichlen
I'm going to assume you don't own a vertical rotisserie, so my method relies on direct grilling.
Print
"Shepherd's Tacos" (Tacos al Pastor)
Recipe Notes
Advance Prep: 3 to 6 hours for marinating the meat
Yield: Serves 6 to 8
Method: Direct grilling
Ingredients
4 ounces guajillo chiles (20 to 24 chiles), or 1/2 cup pure Mexican chile powder
1 pork loin, about 3 pounds
2 medium-size sweet onions, peeled and cut crosswise into 1/4-inch slices
1/4 cup distilled white vinegar
3 tablespoons achiote paste (optional)
3 tomatillos or 1 ripe tomato, coarsely chopped
2 cloves garlic, coarsely chopped
2 bay leaves, crumbled
1 tablespoon coarse salt (kosher or sea)
2 teaspoons freshly ground black pepper
2 teaspoons ground cinnamon
2 teaspoons dried oregano, preferably Mexican
1 teaspoon ground cumin
1 teaspoon anise seed
1 teaspoon dried thyme
1 fresh ripe pineapple, peeled and cut crosswise into 1/4-inch slices
20 to 24 small corn tortillas, preferably freshly made
1 bunch fresh cilantro, rinsed, dried, stemmed, and placed in an attractive serving bowl
Your favorite salsa (optional)
Recipe Steps
Step 1: If you are using guajillo chiles, place them in a bowl with 4 cups of warm water and let them soak for an hour.
Step 2: Using a very sharp knife, cut the pork loin across the grain into thin slices. Arrange half the onion slices in a large mixing bowl or roasting pan. Arrange the pork over the onion slices, then place the remaining onion slices on top.
Step 3: Drain the soaked chiles, if using, setting aside 1 cup of soaking liquid. Tear open each chile and scrape out and discard the seeds. Coarsely chop the chiles and place them in a blender with the vinegar and the reserved 1 cup of chile soaking liquid, then puree until smooth. If you are using chile powder, place it and 3/4 cup of water in the blender along with the vinegar. Add the achiote paste, if using, and the tomatillos, garlic, bay leaves, salt, pepper, cinnamon, oregano, cumin, aniseed, and thyme and process to a smooth pourable puree. Alternatively, you can puree the ingredients in a food processor, but in this case, puree the solid ingredients first, then add the liquids.
Step 4: Pour the marinade over the pork and onions, turning them to coat both sides. They don't have to stay in layers. Let the pork marinate in the refrigerator, covered, for 3 to 6 hours. The longer it marinates, the richer the flavor will be.
Step 5: Set up the grill for direct grilling and preheat it to high.
Step 6: When ready to cook, brush and oil the grill grate. Drain the pork and onion slices, discarding the marinade. Place the pineapple slices on the hot grate and grill until golden brown, 3 to 5 minutes per side. Keep the grilled pineapple warm on the side of the grill or on a platter. Place the pork and onion slices on the grate and grill until golden brown, 2 to 4 minutes per side.
Step 7: Transfer the pork, onion, and pineapple to a cutting board, stacking several slices of pork with a slice of onion and pineapple. Thinly slice them crosswise.
Step 8: Warm the tortillas on the grill for about 30 seconds per side. Place some sliced pork, onion, and pineapple on a tortilla. Top with cilantro and salsa, if desired, to taste. Fold the tortilla in half and eat.
Recipe Tips
Find This Recipe
And More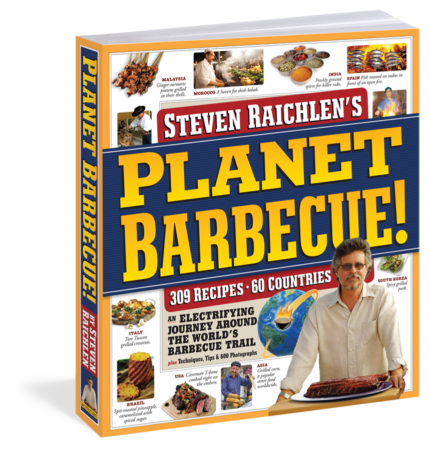 The most ambitious book yet by America's bestselling, award-winning grill expert whose Barbecue! Bible books have over 4 million copies in print. Setting out—again—on the barbecue trail four years ago, Steven Raichlen visited 60 countries—yes, 60 countries—and collected 309 of the tastiest, most tantalizing, easy-to-make, and guaranteed-to-wow recipes from every corner of the globe. Welcome […]
Buy Now ‣