Smoke-Braised Lamb Shanks
Steven Raichlen
In smoke-braising, you smoke the meat in an open pan with an inch of liquid so it benefits from the moisturizing environment of braising and the smoke flavor of true barbecue. This recipe takes its inspiration from Chinese red cooking—the soy sauce and seasonings give the meat a reddish hue. Sweet, salty, spice-scented, and rich in umami flavors—it's Asian barbecue at its most awesome.
More Lamb Recipes:
Print
Smoke-Braised Lamb Shanks
Recipe Notes
Yield: Makes 2 shanks, enough to serve 2; can be multiplied as desired
Equipment: A large aluminum foil drip pan; an instant-read thermometer; cherry or apple or another hardwood (enough for 10 hours of smoking)
Ingredients
2 lamb shanks (1¼ to 1½ pounds each)
1 to 2 cups water
½ cup soy sauce
½ cup rice wine (shaoxing), sake, or sherry (cream or dry)
½ cup packed dark or light brown sugar
3 tablespoons Asian (dark) sesame oil
4 strips orange or tangerine zest (½ inch by 1½ inches each)
3 whole star anise, or 1½ teaspoons Chinese five-spice powder
2 cinnamon sticks (each about 3 inches long)
Recipe Steps
Step 1: Using a sharp, slender implement like the probe of an instant-read thermometer, pierce each lamb shank all over, about 20 times. (This encourages the absorption of the flavorings.) Place the shanks in a large aluminum foil pan.
Step 2: Place the water, soy sauce, rice wine, brown sugar, and sesame oil in a bowl and whisk until the sugar dissolves. Add the orange zest, star anise, and cinnamon sticks. Pour over the lamb.
Step 3: Meanwhile, set up your smoker following the manufacturer's instructions and preheat to 225° to 250°F. Add the wood as specified by the manufacturer.
Step 4: Place the lamb with its braising liquid in the foil pan, in the smoker. Smoke until the lamb is dark brown and very tender, 8 to 10 hours. Turn the shanks with tongs every 30 minutes so they brown evenly. Add water as needed (1 to 2 cups) to keep the liquid level over ½ inch. (Try not to add any the last 30 minutes so as not to dilute the sauce.) Add fuel and wood as needed. When ready, the lamb will have shrunk back from the end of the bone and will be tender enough to pull apart with your fingers. The internal temperature on an instant-read thermometer inserted in the thickest part of the shank not touching the bone will be 195°F.
Step 5: Transfer the lamb to a platter or plates. Skim any visible fat off the braising liquid and strain it over the shanks by way of a sauce.
Recipe Tips
Star anise is a star-shaped spice with a smoky licorice flavor. Look for it in Asian markets and natural foods stores, or substitute Chinese five-spice powder.

Find This Recipe
And More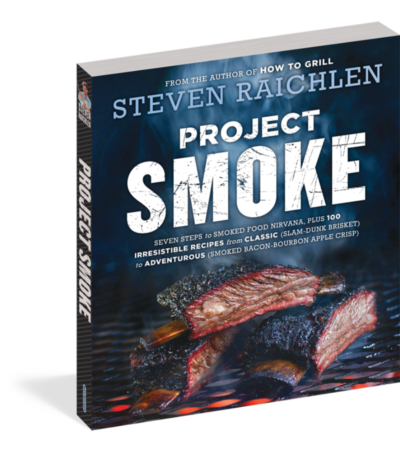 New York Times Bestseller Project Smoke is the How to Grill of smoking, both a complete step-by-step guide to mastering …
Buy Now ‣