Smoke-Roasted Beef Tenderloin
Steven Raichlen
Need a wow dish in a hurry? Smoke a whole beef tenderloin. Yes, it's expensive, but it's quick and easy to prepare, and it brings most beef addicts to immediate intoxication.
But you can't smoke beef tenderloin the way you would brisket or other tough, fatty cuts. Tenderloin demands a sizzling crust with a blood-rare or medium-rare center. Enter the so-called reverse-sear method, where you partially cook the beef by slow-smoking at a low temperature, then nish it over a screaming hot re. Ideally you'll have a dual function smoker (that both smokes and grills), but I've included workarounds if you don't.
Print
Smoke-Roasted Beef Tenderloin
Recipe Notes
Yield: Serves 8
Method: Reverse sear (smoking, then grilling)
Equipment: A remote digital thermometer or instant-read thermometer so you can monitor the internal temperature during smoking and grilling; Fuel: I like cherry, but any hardwood will do. You'll need enough for 1 hour of smoking.
Ingredients
1 whole beef tenderloin, trimmed (about 4 pounds)
Smoked salt or coarse salt (sea or kosher)
Cracked or freshly ground black pepper
1 to 2 tablespoons extra virgin olive oil, plus extra for basting
Vegetable oil, for oiling the rack
Three Hots Horseradish Sauce, for serving
Recipe Steps
Step 1: Set up your smoker following the manufacturer's instructions and preheat to 225° to 250°F. Add the wood as specified by the manufacturer.
Step 2: Place the tenderloin on a rimmed baking sheet and season very generously on all sides with salt and pepper. Drizzle the tenderloin on all sides with olive oil, rubbing it into the meat.
Step 3: Place the tenderloin in the smoker and insert the probe of your remote thermometer (if using) through the thick end of the tenderloin into the center. (Alternatively, check for doneness toward the end of cooking, using an instant-read thermometer.) Smoke the tenderloin until the internal temperature is about 110°F, 45 to 60 minutes. Transfer it to a platter and let it rest for 10 minutes.
Step 4: Meanwhile, set up your grill for direct grilling and preheat to high. Brush and oil the grill grate. If you happen to be smoking on a charcoal grill, rake the coals into a mound, after the smoking is completed, adding fresh coals as needed, to build a hot fire.
Step 5: Transfer the tenderloin to the grill, with the thermometer probe still attached. Direct grill, rotating it like a log, until all sides are crusty, dark, and sizzling and the internal temperature in the thickest part of the tenderloin reaches 120° to 125°F (for rare beef) or 130° to 135°F (for medium-rare), 6 to 10 minutes. Brush the tenderloin with additional olive oil as it grills, and if you like, give it a quarter turn on each side halfway through grilling to lay on a crosshatch of grill marks.
Step 6: Place the tenderloin on a cutting board and remove the strings. Cut the meat crosswise into ¼- to ½-inch-thick slices. It just may be the best beef tenderloin you'll ever taste.
Recipe Tips
Note: Upright barrel smokers like the Pit Barrel Cooker work great for smoking beef tenderloin. Hang the tenderloin head end up from the meat hook. You can smoke and cook it simultaneously—there's no need for separate smoking and grilling. (The PBC runs at just shy of 300°F.) Cooking time will be 45 minutes to 1 hour. Use a kamado-style cooker, like the Komodo Kamado, the same way. On a pellet grill, like the Memphis Wood Fire Grill, smoke the tenderloin low and slow, then remove the burn chamber cover and finish the tenderloin by direct grilling.
Find This Recipe
And More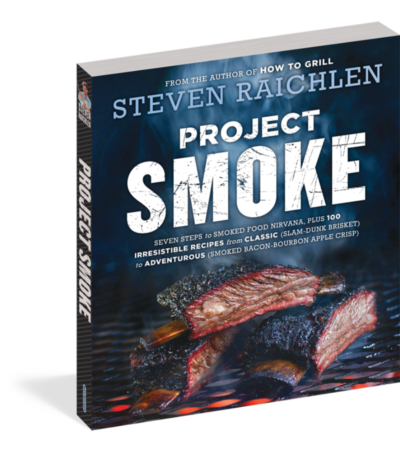 New York Times Bestseller Project Smoke is the How to Grill of smoking, both a complete step-by-step guide to mastering the gear and techniques and a collection of 100 explosively flavorful recipes for smoking every kind of food, from starters to desserts. Project Smoke describes Raichlen's seven steps to smoked food nirvana, including 1. Choose […]
Buy Now ‣