Smoked Chicken Nachos
Steven Raichlen
Print
Smoked Chicken Nachos
Recipe Notes
Yield: Serves 6 to 8
Method: Hot smoking
Equipment: Big Green Egg Mini-Max; apple wood; perforated pizza pan, pie plate, cast iron skillet, or rimmed baking sheet
Ingredients
2 cups shredded smoked chicken, pork, or turkey
3 tablespoons of your favorite barbecue sauce, preferably not sweet
2 tablespoons Cholula or other favorite hot sauce
8 cups tortilla chips (ideally a blend of yellow and blue)
1 15-ounce can black beans (preferably organic and low sodium), drained well in a strainer, rinsed with water, and drained again
4 scallions, trimmed and thinly sliced crosswise
12 ounces mixed finely grated melting cheese (including cheddar, smoked cheddar, Jack, and/or pepper Jack)
4 fresh jalapeño peppers, thinly sliced crosswise, or 1/4 cup drained pickled jalapeños
1/4 cup rough chopped fresh cilantro leaves (optional)
Recipe Steps
Step 1: Set up your smoker following the manufacturer's instructions and preheat to 275 degrees. Add the wood as specified by the manufacturer.
Step 2: Place the shredded chicken in a bowl. Stir in the barbecue sauce and hot sauce.
Step 3: Loosely arrange 1/3 of the tortilla chips in the perforated skillet. Sprinkle 1/3 of the chicken mixture, black beans, scallions, cheese, and jalapeños on top. Add a second layer of these ingredients, followed by a third.
Step 4: Place the nachos in your smoker and smoke until the cheese is melted and bubbling, 15 to 20 minutes. Sprinkle with the fresh cilantro before serving.
Recipe Tips
Variation—smoked nachos on the grill: Your charcoal grill makes excellent smoked nachos. Set it up for indirect grilling and preheat to medium-high (400 degrees). Place the nachos pan on the grate away from the heat and toss the wood chips on the coals. Indirect grill until the cheese is melted and bubbling, 5 to 10 minutes.
Find This Recipe
And More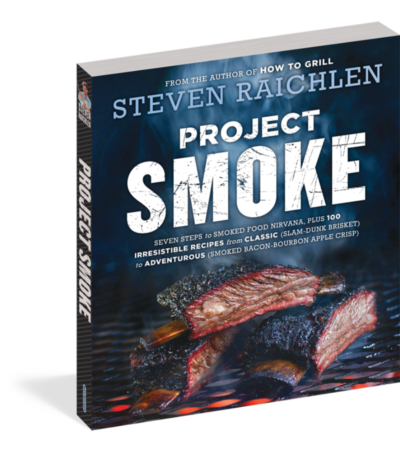 New York Times Bestseller Project Smoke is the How to Grill of smoking, both a complete step-by-step guide to mastering …
Buy Now ‣