Smoked Slaw
Steven Raichlen
Print
Smoked Slaw
Recipe Notes
Yield: Serves 4 to 6
Method: Cold or hot smoking
Equipment: Smoking Gun by Polyscience
Ingredients
1 small or 1/2 large green cabbage, cored and quartered
1 small onion, quartered
1 large red delicious apple, cored and quartered
2 carrots, trimmed, scrubbed
2 stalks celery, trimmed
For the dressing:
1/2 cup mayonnaise
3 tablespoons cider vinegar
3 tablespoons sugar
1 tablespoon prepared horseradish
1 teaspoon celery salt
1 teaspoon black pepper
Recipe Steps
Step 1: Shred the cabbage, onion, apple, carrots, and celery on a mandolin, in a food processor fitted with a shredding disk, or with a chef's knife. Spread out the vegetables in a thin layer in a roasting pan. Tightly cover the pan with plastic wrap, leaving 1 corner open.
Step 2: Light your handheld smoking device following the manufacturer's instructions. Place the smoking tube under the plastic wrap and fill the pan with smoke. Let stand for 4 minutes. Add the smoke one more time.
Step 3: Meanwhile, prepare the dressing. Combine the mayonnaise, vinegar, sugar, horseradish, celery salt, and pepper in a large bowl and whisk until the sugar is dissolved.
Step 4: Stir the smoked vegetables into the dressing. Correct the seasoning, adding salt or vinegar as desired. Refrigerate the slaw until serving and try to serve within a couple hours of mixing.
Recipe Tips
Note: You can also smoke the vegetables in a conventional smoker—keep them over ice. Hot smoke for 10 to 20 minutes or cold smoke for 45 minutes.
Find This Recipe
And More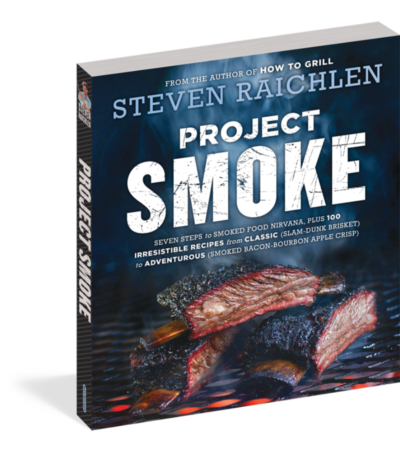 New York Times Bestseller Project Smoke is the How to Grill of smoking, both a complete step-by-step guide to mastering …
Buy Now ‣