Smoked Wahoo with Mango Salsa
Steven Raichlen
Print
Smoked Wahoo with Mango Salsa
Recipe Notes
Yield: Makes 2 pounds, enough to serve 8 to 10 as an appetizer, 4 to 6 as an entrée
Method: Hot smoking
Equipment: Bradley smoker; cherry, apple, or other mild wood
Ingredients
2 pounds wahoo or other oily game fish
For the brine:
1 quart water
1/3 cup kosher or sea salt
1 quart ice water
For the seasoning:
1/2 cup distilled white vinegar
2 teaspoons sweet paprika
2 teaspoons black pepper
1 teaspoon garlic powder
1/2 cup vegetable oil
Recipe Steps
Step 1: Wash the fish well and cut it into 3-inch chunks.
Step 2: Make the brine: Combine the 1 quart of water and salt in a large nonreactive mixing bowl and whisk until the salt crystals dissolve. Add the ice water and let cool to room temperature. Add the fish. Brine, covered, in the refrigerator for 8 to 10 hours (or overnight), stirring a few times so the fish brines evenly.
Step 3: The next day, make the seasoning. Combine the vinegar, paprika, pepper, and garlic powder in a mixing bowl and whisk to mix. Whisk in the oil.
Step 4: Rinse the brined wahoo in a colander and drain well. Stir it into the seasoning mixture. Let marinate for 20 minutes, then drain well again in a colander.
Step 5: Set up your smoker following the manufacturer's instructions and preheat to 200 degrees. Add the wood as directed by the manufacturer. Arrange the wahoo on the smoker racks (lightly oil them first) and smoke until fully cooked, 1-1/2 to 2 hours. When done, the fish will have a tan patina of smoke and will break into clean flakes when pressed. (You're looking for an internal temperature of 140 degrees.)
Step 6: Transfer the smoked wahoo to a wire rack to cool to room temperature, then refrigerate until serving. It will keep for at least 3 days in the refrigerator.
Find This Recipe
And More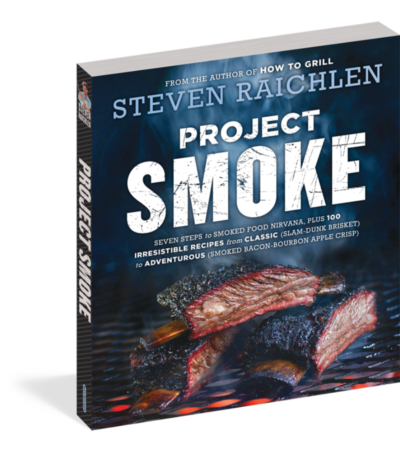 New York Times Bestseller Project Smoke is the How to Grill of smoking, both a complete step-by-step guide to mastering …
Buy Now ‣