Snow Crab Bacon Poppers
Steven Raichlen
Print
Snow Crab Bacon Poppers
Recipe Notes
Yield: Makes 24 halves
Method: Indirect grilling
Equipment: Pit Barrel Cooker; charcoal
Ingredients
12 large jalapeño peppers
12 ounces cream cheese, at room temperature
1 teaspoon finely grated lemon zest
1 teaspoon sweet paprika or pimenton (smoked paprika)
12 ounces king crab meat (or other crab meat)
Freshly ground black pepper
6 strips thin-sliced bacon, each strip cut crosswise in half
Recipe Steps
Step 1: Slice each jalapeño in half lengthwise through the stem, and using a small metal spoon or paring knife, carefully remove the seeds and ribs from each pepper. Arrange the peppers on a rimmed baking sheet for filling.
Step 2: In a small mixing bowl, combine the cream cheese, lemon zest, and paprika and stir vigorously with a wooden spoon until smooth. Fill each pepper with this mixture. Top each with some crab meat. Wrap a strip of bacon around each pepper and secure with a toothpick.
Step 3: Set up your grill for indirect grilling and preheat to 300 to 350 degrees. Arrange the chile peppers on the grill grate, away from the heat. Toss the wood chips, if using, on the coals. Smoke-roast until the bacon is browned, the chiles are tender, and the filling is bubbling, 20 to 25 minutes.
Find This Recipe
And More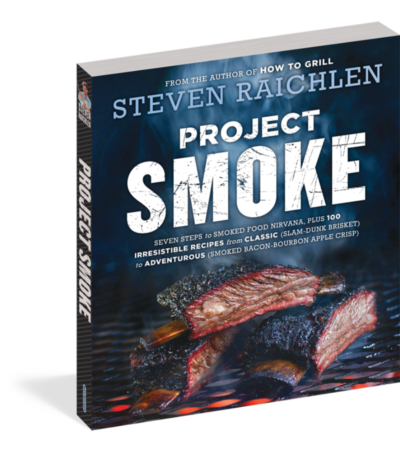 New York Times Bestseller Project Smoke is the How to Grill of smoking, both a complete step-by-step guide to mastering …
Buy Now ‣