South African Grilled Cheese Sandwiches (Rooster Brood)
Steven Raichlen
Soccer isn't the only obsession in South Africa. Braaing, or barbecuing, is another national pastime. Rooster brood are little knots of bread dough that are cooked on the grill — an appetizer to keep hunger at bay while the big cuts of meat are cooking. Another way of enjoying Rooster brood, according to Steven Raichlen's Planet Barbecue (Workman, $22.95), is the Afrikaner-style grilled cheese sandwich, which pairs sweet chutney with cheese.
Print
South African Grilled Cheese Sandwiches (Rooster Brood)
Ingredients
8 slices white sandwich bread
4 tablespoons (½ stick) butter, melted
1/2 cup fruit chutney (a good commercial one, such as Major Grey's)
8 ounces sharp orange cheddar cheese, thinly sliced
1 large or 2 medium-sized tomatoes, thinly sliced
1/2 medium-size sweet onion, sliced paper thin
Recipe Steps
Step 1: Lightly brush 4 slices of the bread with melted butter on one side and place them buttered-side down on a work surface. Spread top of each with about 2 tablespoons chutney. Place slices of cheese on top of the chutney, followed by slices of tomato and onion. Place remaining slices of bread on top to make sandwiches. Brush top of each sandwich with remaining melted butter.
Step 2: Set up the grill for direct grilling, preheating to medium-high.
Step 3: When ready to cook, brush and oil the grate thoroughly. Arrange the sandwiches on the hot grate at a diagonal to the bars and grill them for 1 minute. Then slide a spatula under each sandwich and give it a quarter turn to create a handsome crosshatch of grill marks (this is optional but it sure looks cool). Cover and grill sandwiches until they are browned on the bottom, 2 to 4 minutes. Then, using a spatula, carefully turn the sandwiches over and grill the second side until the bread is browned and the cheese is melted, 2 to 4 minutes longer. Serve the sandwiches hot off the grill.
Find This Recipe
And More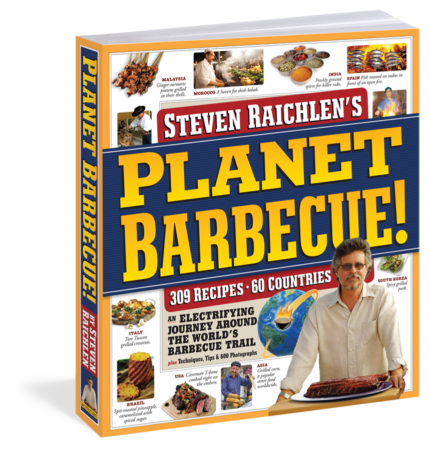 The most ambitious book yet by America's bestselling, award-winning grill expert whose Barbecue! Bible books have over 4 million copies in print. Setting out—again—on the barbecue trail four years ago, Steven Raichlen visited 60 countries—yes, 60 countries—and collected 309 of the tastiest, most tantalizing, easy-to-make, and guaranteed-to-wow recipes from every corner of the globe. Welcome […]
Buy Now ‣