Spruce-Grilled Steak
Steven Raichlen
Print
Spruce-Grilled Steak
Recipe Notes
Ingredients
2 rib eye steaks (each at least 1¼ inches thick and 8 to 10 ounces)
Coarse salt (kosher or sea) and freshly ground black pepper
2 small fresh spruce or pine branches (branches of the feathery needled leaves should be just slightly larger than the steaks)
Recipe Steps
Step 1: Set up the grill for direct grilling and preheat it to high.
Step 2: When ready to cook, brush and oil the grill grate. Very generously season the steaks on both sides with salt and pepper. Arrange the steaks on the hot grate at a diagonal to the bars. Grill the steaks until the outside of each is crusty and browned and the inside is cooked to taste, about 3 minutes per side for rare, 4 to 5 minutes per side for medium-rare. Use the poke test to check for doneness. If desired, give each steak a quarter turn on each side after 1½ minutes to create a handsome crosshatch of grill marks.
Step 3: Right before the steaks are done, place the spruce branches under them and grill them until smoky and aromatic (if you see flames, even better)—maybe 15 to 30 seconds—just long enough to perfume the steaks with spruce smoke. Serve the steaks at once.
Recipe Tips
Find This Recipe
And More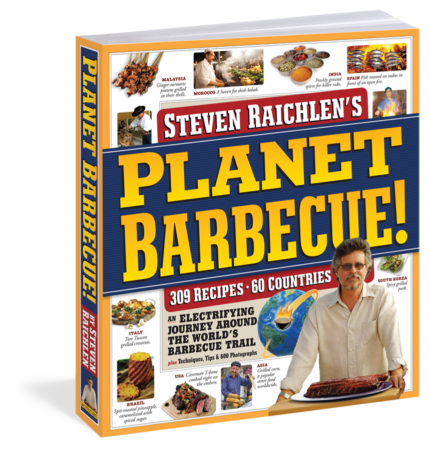 The most ambitious book yet by America's bestselling, award-winning grill expert whose Barbecue! Bible books have over 4 million copies …
Buy Now ‣