Steak on a Pitchfork
Steven Raichlen
Print
Steak on a Pitchfork
Recipe Notes
Yield: Serves 4; can be multiplied as desired
Equipment: Your basic kitchen gear plus a turkey fryer with a ring burner, a deep-fry thermometer, and a clean pitchfork
Ingredients
Dipping sauces such as Dark & Stormy Barbecue Sauce
2 gallons vegetable oil, such as canola or peanut oil
4 rib eye steaks (each 1 to 1¼ inches thick and 8 to 10 ounces)
Steak seasoning, or coarse salt (kosher or sea) and freshly ground black pepper
Recipe Steps
Step 1: Place your choice of sauces in small serving bowls and set them aside.
Step 2: Set up a turkey fryer on a ring burner outdoors. Pour the vegetable oil into the fryer and heat it to 360°F. Use a deep-fry thermometer to check the temperature.
Step 3: Generously season the steaks on both sides with steak seasoning or salt and pepper. Impale the steaks from top to bottom on a pitchfork, leaving about 2 inches between them.
Step 4: Carefully plunge the steaks into the hot oil and fry them until crusty and brown on the outside and done to taste, about 3 minutes for medium-rare. Lift the steaks out of the hot oil and let them drain on the pitchfork for about 30 seconds, then transfer them to a platter or plates for serving. Use tongs to slide the steaks off the pitchfork, taking care not to touch the hot tines. Serve the steaks with the bowls of dipping sauce on the side.
Recipe Tips
There's another version of pitchfork steak that's more in my arena. You season the beef with your favorite rub, impale it on the pitchfork, and roast it over a campfire (or a charcoal kettle grill fortified with a couple of small hardwood logs or wood chunks). There are two advantages here: You get added smoke flavor from the wood and a lot less fat without the oil.
Find This Recipe
And More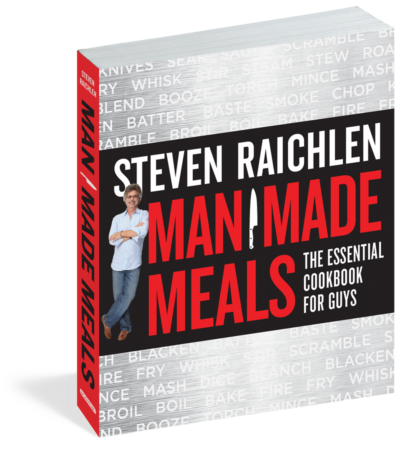 Man Made Meals is about the tools and techniques (guess what, grillers, you still get to play with knives and fire.) …
Buy Now ‣