Steaks from Hell
Steven Raichlen
This recipe literally is steaks from hell. It comes from an unassuming steak house in Juarez, Mexico, called Mitla, and mitla is the Nahuatl Indian word for hell.
Print
Steaks from Hell
Recipe Notes
Yield: 4 servings
Method: Direct Grilling
Equipment: 2 cups mesquite wood chips or chunks (optional), soaked for 1 hour in cold water to cover and drained
Ingredients
2 to 4 chiles de arbol or other dried hot red chiles (4 give you a nice heat)
2 large ripe tomatoes
1/3 medium-sized onion, sliced
3 tablespoons coarsely chopped fresh cilantro
1 to 2 teaspoons fresh lime juice
Salt and freshly ground black pepper
4 T-bone or sirloin beefsteaks (each about 3/4 inch thick)
4 large (or 8 small) flour tortillas, for serving
1 clove garlic, sliced
Recipe Steps
Step 1: Soak the chiles in a bowl of warm water until pliable, about 20 minutes.
Step 2: Meanwhile, set each tomato directly on a gas stove burner and roast it over high heat until the skin is charred and blistered on all sides, 6 to 8 minutes in all. Transfer the tomatoes to a plate and let them cool.
Step 3: Drain the chiles and remove the seeds if you prefer a milder salsa. Place the chiles in a blender with the cooled tomatoes and the onions, garlic, and cilantro and process to a coarse paste. Add the lime juice and season with salt and pepper to taste. Transfer the salsa to a serving bowl.
Step 4: Set up the grill for direct grilling and preheat to high. If using a gas grill, add the wood chips (if using) to the smoker box before preheating.
Step 5: When ready to cook, if using a charcoal grill, toss the wood chips on the coals. Brush and oil the grill grate. Salt the steaks generously on one side. Arrange the steaks on the oiled grate, salt side down, and grill, turning once with tongs, until cooked to taste, 2 to 4 minutes per side for medium-rare. Transfer the steaks to a platter and let rest for 3 minutes.
Step 6: Meanwhile, arrange the tortillas on the grate and grill until soft, pliable, but not browned, about 20 seconds per side. Serve the steaks with the tortillas and the salsa on the side.
Find This Recipe
And More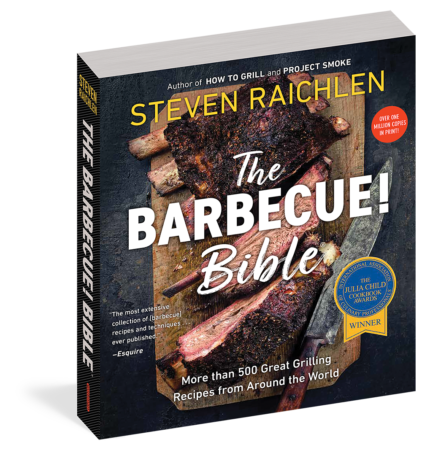 Steven Raichlen's Barbecue! Bible offers the biggest collection of barbecue recipes and grilling recipes ever developed.
Buy Now ‣