Still House Barbecue Sauce
Steven Raichlen
The following sweet, sassy barbecue sauce may be the best reason I know of for not drinking Jack Daniel's.
Print
Still House Barbecue Sauce
Recipe Notes
Ingredients
1 cup Jack Daniel's Tennessee whiskey
1 cup ketchup
1 cup cider vinegar
1 cup (packed) dark brown sugar
1/2 cup onion, very finely minced
2 tablespoons Worcestershire sauce
1-1/2 tablespoons Tabasco sauce
1/2 teaspoon freshly ground black pepper
1/4 teaspoon liquid smoke
Recipe Steps
Step 1: Combine all the ingredients in a large, heavy, nonreactive saucepan and bring to a boil over high heat. Reduce the heat and briskly simmer, uncovered, until richly flavored and slightly thickened, about 20 minutes, stirring from time to time with a wooden spoon.
Step 2: Use right away or transfer to jars, cover, cool to room temperature, and refrigerate. The sauce will keep for several months.
Find This Recipe
And More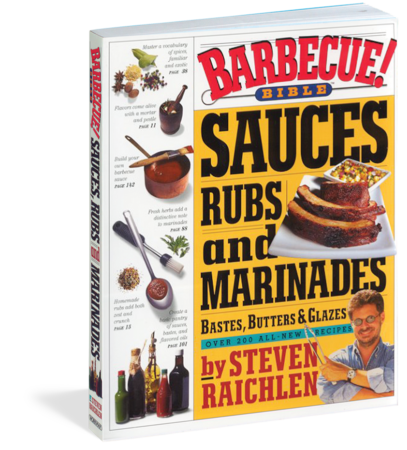 Marinate skewers of beef tips in Tex-Mex Tequila-Jalapeno Wet Rub before putting them on the grill. Or slather pork chops …
Buy Now ‣