Stovetop Kippered Salmon
Steven Raichlen
Print
Stovetop Kippered Salmon
Recipe Notes
Yield: Serves 6 to 8 as an appetizer
Method: Hot smoking
Equipment: Camerons Stovetop Smoker; alder or cherry wood chips
Ingredients
1 1/2 pounds fresh salmon fillet, with skin intact, cut crosswise into 4-inch pieces
1 cup dark rum
For the cure:
1/2 cup dark brown sugar
1/4 cup coarse sea salt or kosher salt
1 tablespoon freshly ground black pepper
Recipe Steps
Step 1: Rinse off the salmon fillet and blot dry. Run your fingers over the fillet, feeling for bones. Pull out any you may find with needle-nose pliers. Using a razor blade, make shallow slits in the salmon skin at 1-inch intervals (optional). Place the fish in a baking dish just large enough to hold it. Add the rum and marinate in the refrigerator for 30 minutes, turning it twice. Drain the fish well in a colander and blot dry, discarding the rum. Wipe out the baking dish.
Step 2: Make the rub: Place the sugar, salt, and pepper in a large bowl and mix well, breaking up any lumps in the brown sugar with your fingers. Place 1/3 of this mixture in the bottom of the baking dish. Arrange the fish pieces skin side down on top. Sprinkle the remaining rub over the fish, patting it into the meat. Cover the fish with plastic wrap and cure in the refrigerator for 4 hours.
Step 3: Quickly rinse off the fish and blot dry. Arrange the fish pieces skin side down on a wire rack and dry in the refrigerator for 2 hours. (This helps form the pellicle, a tacky surface that helps the smoke to stick.)
Step 4: Set up your stovetop smoker following the manufacturer's instructions. Add the wood chips or sawdust as specified by the manufacturer. Place the salmon (oil the skin side of the fish first to prevent sticking) on the smoking rack and preheat the smoker over high heat. At the first hint of smoke, lower the heat to medium.
Step 5: Smoke the fish until just cooked through, about 45 minutes. To test for doneness, press it with your finger—the flesh will break into clean flakes. Or insert the probe of an instant-read thermometer through the thick end of the fish into the center. The internal temperature should be 140 degrees.
(Alternatively, you can cook the salmon on your hot smoker. Preheat it to 225 degrees using your favorite hardwood or hardwood chips, and smoke until just cooked through, 1 to 1-1/2 hours.)
Step 6: Transfer the salmon to a wire rack over a sheet pan and let the fish cool to room temperature, then refrigerate until serving. It will keep in the refrigerator for at least 3 days or in the freezer for several months.
Find This Recipe
And More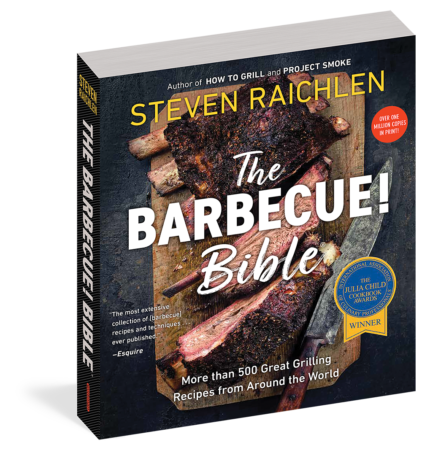 Steven Raichlen's Barbecue! Bible offers the biggest collection of barbecue recipes and grilling recipes ever developed.
Buy Now ‣