Sweet-and-Smoky Barbecue Sauce
Steven Raichlen
Ask most Americans to describe the perfect barbecue sauce and they'll evoke a thick, sweet, red, ketchup-based sauce with a zing of vinegar and a whiff of liquid smoke. In short, the sort of sauce Kansas City barbecue buffs have slathered on ribs and briskets for decades. The following recipe comes from the Kansas City Barbecue Society.
Print
Sweet-and-Smoky Barbecue Sauce
Recipe Notes
Ingredients
6 tablespoons (packed) dark brown sugar
1/2 cup cider vinegar
1/4 cup molasses
1/4 cup honey
1/4 cup Worcestershire sauce
2 tablespoons dark rum
2 tablespoons yellow mustard
1 tablespoon liquid smoke
1 tablespoon pure chili powder (not a blend)
2 teaspoons freshly ground black pepper
2 teaspoons garlic powder
1 teaspoon ground allspice
1/4 teaspoon ground cloves
4 cups ketchup
Coarse salt (kosher or sea) and freshly ground black pepper
Recipe Steps
Step 1: Combine all the ingredients, except for the ketchup, in a large, deep, heavy, nonreactive saucepan and bring to a simmer over medium heat. Cook, uncovered, until all the ingredients are dissolved, stirring constantly, about 5 minutes. Stir in the ketchup and bring to a boil, stirring well, as the ketchup has a tendency to spatter. Add salt and pepper to taste.
Step 2: Reduce the heat slightly and gently simmer the sauce, uncovered, until dark, thick, and richly flavored, about 30 minutes, stirring often. Use right away or transfer to jars, cover, cool to room temperature, and refrigerate. The sauce will keep for several months.
Find This Recipe
And More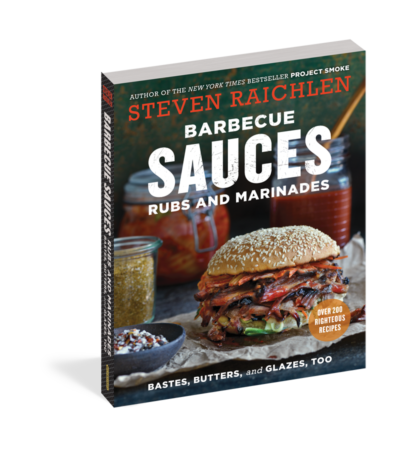 Barbecue sauces, rubs, and marinades are every griller's secret weapon—the flavor boosters that give grilled food its character, personality, depth, …
Buy Now ‣