Sweet & Garlicky Pork Chops
Steven Raichlen
One of the constants in the world of barbecue is the pairing of grilled meats with garlic. Another is the use of sugar- or honey-based marinade to counterpoint the richness of a meat like pork. Put them together and you get this Thai-style barbecue.
Print
Sweet & Garlicky Pork Chops
Recipe Notes
Advance Prep: 1 to 2 hours for marinating the meat
Yield: 4 servings
Method: Direct Grilling
Ingredients
4 thick (1 inch) or 8 thin (1/2 inch) pork chops (about 2 pounds in all)
1 head garlic, broken into cloves and peeled
3 tablespoons sugar
1/3 cup Asian fish sauce or soy sauce
3 tablespoons honey
3 tablespoons rice wine
2 tablespoons Asian (dark) sesame oil
1 tablespoon grated peeled fresh ginger
2 teaspoons salt
1 teaspoon freshly ground black pepper
Recipe Steps
Step 1: Make 1 or 2 cuts in the fat side of each pork chop to keep it from curling during grilling. Arrange the chops in a baking dish and set aside.
Step 2: Combine the garlic and sugar in a mini-chopper or food processor and process to a paste or pound to a paste in a mortar using a pestle. Work in the fish sauce, honey, rice wine, sesame oil, ginger, salt, and pepper. Using a rubber spatula, spread the mixture over both sides of the chops. Let marinate in the refrigerator, covered, for 1 to 2 hours.
Step 3: Set up the grill for direct grilling and preheat to high.
Step 4: When ready to cook, brush and oil the grill grate. Arrange the chops on the hot grate and grill until nicely browned on both sides and cooked through, 4 to 6 minutes per side for thick chops, 2 to 4 minutes per side for thin chops. Transfer the chops to a platter and serve at once.
Find This Recipe
And More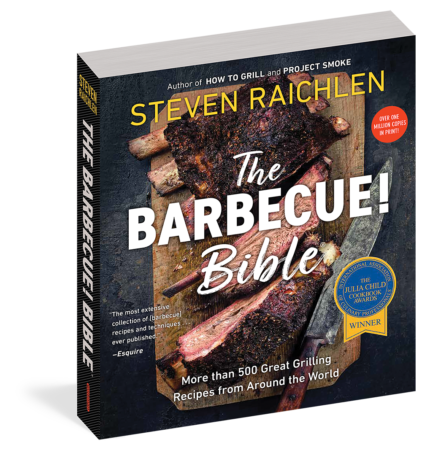 Steven Raichlen's Barbecue! Bible offers the biggest collection of barbecue recipes and grilling recipes ever developed.
Buy Now ‣