Tangerine Smoked Flans
Steven Raichlen
Remember flan, aka crème caramel—that custard comfort dessert claimed with equal partisanship by the French, Spanish, and Latin Americans? You start by caramelizing sugar to coat the mold, which imparts an agreeably bitter smokelike flavor. You cook it in a hot water-filled pan (aka bain marie), which keeps the custard moist and prevents it from curdling. Sounds like some French version of low, slow, and smoky—which set me wondering what would happen if you actually cooked flan in a smoker. The wood smoke would play off the caramel flavor, and you wouldn't need to bother with a water bath. It's awesome and easy. And it makes you wonder why no one thought of it earlier.
More Dessert Recipes:
Print
Tangerine Smoked Flans
Recipe Notes
Yield: Serves 6
Method: Hot-smoking
Equipment: 6 ramekins (straight-sided heatproof ceramic bowls), each with a 6-ounce capacity; an instant-read thermometer; wood chips for 1¼ hours of smoking
Ingredients
For the caramel:
1 cup sugar
¼ cup water
For the flan:
½ cup sugar
3 large eggs
2 large egg yolks
Pinch of salt
1¼ cups whole milk
1 cup half-and-half
1 regular or smoked vanilla bean, split, or 1 teaspoon pure vanilla extract
6 strips tangerine zest
1 cinnamon stick
Recipe Steps
Step 1: Make the caramel: Place the sugar and water in a heavy saucepan. Cover the pan and cook over high heat for 2 minutes. Uncover the pan and reduce the heat to medium. Swirl the pan so the sugar browns evenly, but don't stir, and watch it carefully so it doesn't burn or become bitter. (If it does, you'll need to start over.) Cook until the syrup is dark golden brown and caramelized, 4 to 6 minutes. Remove the pan from the heat immediately. Take care not to get any molten sugar on your hands.
Step 2: Carefully pour the caramel into the ramekins, rotating each to coat the bottom and sides with it. (Wear grill gloves if necessary to protect your hands and arms.) Breathe a sigh of relief; the hard part is over. Let the caramel cool until hard. Arrange the ramekins on a rimmed baking sheet.
Step 3: Make the flan: Place the sugar, whole eggs, yolks, and salt in a large heatproof bowl, and whisk just to mix. Combine the milk, half-and-half, tangerine zest, cinnamon stick, and vanilla bean, if using, in a heavy saucepan and heat over medium heat until very hot but not boiling. Slowly whisk the hot milk mixture into the egg mixture, ½ cup at a time. Strain into a large heatproof glass measuring cup, discarding the vanilla bean and cinnamon stick. (Or you can rinse it off, dry it, and reuse it another time). If using vanilla extract, whisk it in now. Let the custard cool slightly, then pour it into the caramel-coated ramekins.
Step 4: Set up your smoker following the manufacturer's instructions and preheat to 225° to 250°F. Add the wood as specified by the manufacturer.
Step 5: Place the baking sheet with the ramekins in the smoker and smoke until the custard is set, 1 to 1¼ hours. To test for doneness, poke one of the ramekins. When the flan jiggles (not ripples), it's cooked. The internal temperature measured on an instant-read thermometer should be 180°F.
Step 6: Transfer the flans to a wire rack to cool to room temperature, then refrigerate for at least 4 hours or as long as overnight before serving.
Step 7: To unmold, run the tip of a paring knife around the inside edge of each flan. Place a plate firmly over the ramekin, invert, and shake until the flan slips loose. Spoon any caramel left in the ramekin around the flan.
Recipe Tips
You can also cook one big flan in an 8-inch-diameter metal cake pan; smoke it for a little longer than you would individual flans.

Find This Recipe
And More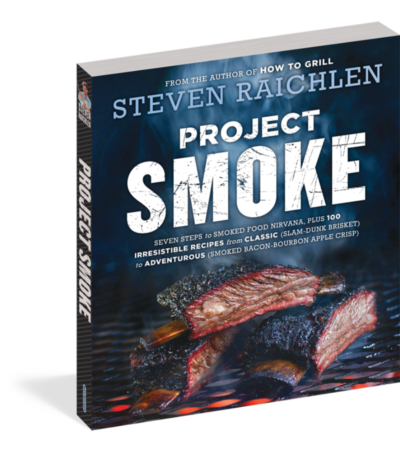 New York Times Bestseller Project Smoke is the How to Grill of smoking, both a complete step-by-step guide to mastering …
Buy Now ‣