Tea-Smoked Chicken
Steven Raichlen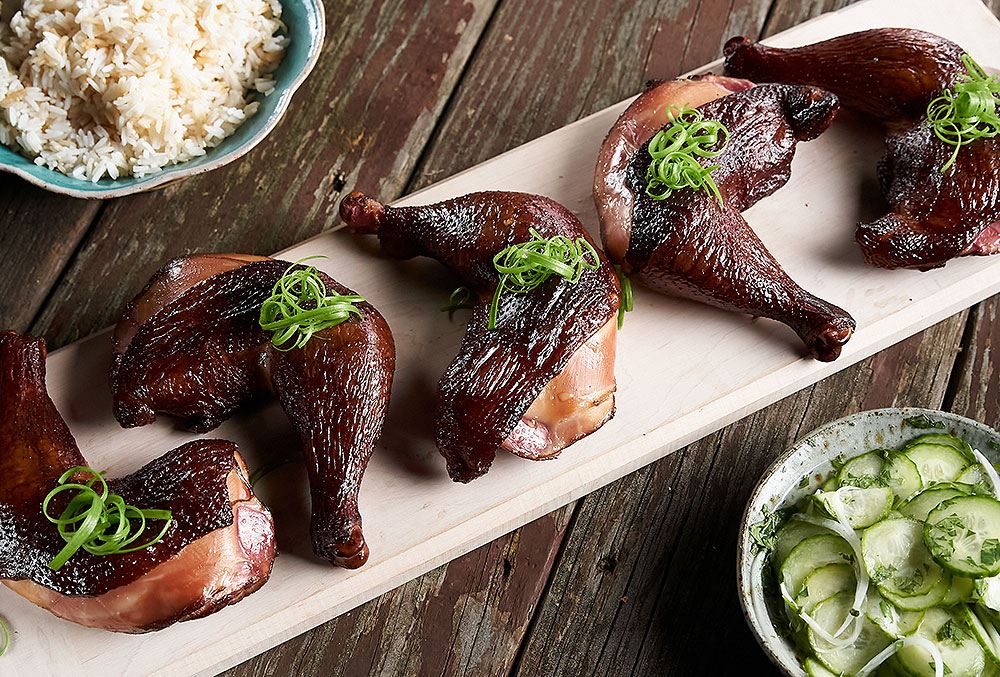 Other Recipes from Episode 306: Barbecue on a Budget
Yield: Makes 6 servings
Method: Hot smoking
Brining time: 24 hours
Smoking time: 2 1/2 hours
Print
Tea-Smoked Chicken
Recipe Notes
Yield: Makes 6 servings
Method: Hot smoking
Ingredients
For the brine:
4 quarts (1 gallon) water
3/4 cup light brown sugar
1/4 cup coarse (sea or kosher) salt
2 tablespoons Chinese five-spice powder
1/2 cup soy sauce
Spice bundle (tie the following ingredients in a cheesecloth square)
5 whole cloves
3 cinnamon sticks, broken
4 whole star anise, broken
2 bay leaves, broken into pieces
3 tablespoons black tea (we used lychee tea)
1 tablespoon whole black peppercorns
1 tablespoon coriander seeds
1 tablespoon whole black peppercorns
For the smoking mixture:
1 cup wood chips (preferably cherry or apple)
1/3 cup white rice
1/3 cup black tea
1/3 cup brown sugar
3 cinnamon sticks
3 star anises
3 strips tangerine peel
For serving:
3 scallions, trimmed, sliced thinly on a sharp diagonal
Cooked white rice
Vinegared cucumbers
Recipe Steps
1: Rinse the chicken quarters under cold running water and place in a large container for brining.
2: Make the brine: Bring 2 quarts of water to a boil in a large pot. Add the sugar, salt, five-spice powder, and soy sauce and whisk until the sugar and salt dissolve. Remove the pan from the heat and add the 2 quarts cold water, and the spice bundle. Whisk to mix. Let this mixture cool to room temperature.
3: Pour the brine over the chicken quarters, making sure they're completely submerged. You can hold them down with a dinner plate or a resealable plastic bag filled with ice. Brine the chicken in the refrigerator for 24 to 48 hours.
4: When you're ready to smoke, drain the chicken and discard the brine. Place the chicken on a wire rack over a sheet pan. Let dry in the refrigerator until tacky, 1 to 2 hours.
5: Set up your smoker according to the manufacturer's instructions and preheat to 300 degrees. Combine the ingredients for the smoking mixture and add to the smoker—1/3 of the mixture every hour.
6: Smoke the chicken until darkly browned and very tender, 2 1/2 to 3 hours. You're looking for an internal temperature of 170 degrees on an instant-read thermometer. (Make sure the probe doesn't touch bone, or you'll get a false reading.)
7: Do not be alarmed (on the contrary—be proud) if the meat under the skin is pinkish: That's a chemical reaction to the smoke. Serve hot or at room temperature. In the unlikely event you have leftovers, store in a sealed container in the refrigerator; the chicken will keep for at least 3 days. Garnish with the scallions.
8: If desired, serve with cooked white rice and vinegared cucumbers.
Recipe Tips
Our thanks to the sponsors of Project Fire Season 3:

Steven Raichlen's Project Fire is a production of Maryland Public Television, Barbacoa, Inc., and Resolution Pictures. © 2021 Barbacoa, Inc. Photos by Chris Bierlein