Thai Grilled Game Hens with Mango Slaw
Steven Raichlen
Print
Thai Grilled Game Hens with Mango Slaw
Recipe Notes
Advance Prep: At least 4 hours for marinating the hens
Yield: 4 servings
Method: Direct Grilling
Equipment: A grill press or foil-wrapped bricks for grilling
Ingredients
4 game hens, each 1 to 1 1/4 pounds
For the marinade:
4 cloves garlic, coarsely chopped
1 piece (3 inches) fresh ginger or galangal, peeled and coarsely chopped
3 stalks fresh lemongrass, trimmed and coarsely chopped
3 tablespoons fresh cilantro root or cilantro leaves, coarsely chopped
1 1/2 tablespoons sugar
1 tablespoon freshly ground black pepper
1 tablespoon curry powder
1/3 cup soy sauce
3 tablespoons vegetable oil, plus 2 tablespoons for basting
Mango slaw (see Step 6), for serving
Recipe Steps
Step 1: Rinse the game hens, inside and out, under cold running water, then drain and blot dry with paper towels. Spatchcock the hens by cutting out the backbone with a sharp knife or kitchen shears. Open like a book, then using a paring knife and your fingers, remove the breastbone and underlying cartilage. Make two deep slashes to the bone in each leg and thigh. Trim or fold the wing tips behind the back. Arrange the hens in a nonreactive baking dish just large enough to hold them in a single layer.
Step 2: Make the marinade: Place the garlic, ginger, lemongrass, cilantro root, sugar, pepper, and curry powder in a heavy mortar and pound to a coarse paste with a pestle. Work in the soy sauce and oil. Alternatively, combine the above ingredients in a mini food processor and puree to a coarse paste.
Step 3: Spoon the marinade over the game hens, forcing it into the slits, and turning the hens to coat on both sides. Cover the hens with plastic wrap and let marinate in the refrigerator for at least 4 hours, or as long as overnight.
Step 4: Set up your grill for direct grilling and preheat to medium. Brush and oil the grill grate.
Step 5: Arrange the hens on the grate, skin side down, and grill until browned and cooked through, about 8 minutes per side. Place a weight, like a grill press or foil-wrapped brick on top. Use an instant-read meat thermometer to test for doneness: Insert the probe into the thickest part of a thigh, being careful not to touch bone. The temperature should be 165 degrees F. Start basting the game hens with oil after 5 minutes. If flare-ups occur, move the game hens to a cooler part of the grill to finish cooking.
Step 6: Transfer the game hens to a platter or plates. Serve at once with the mango slaw on top or on the side.
Find This Recipe
And More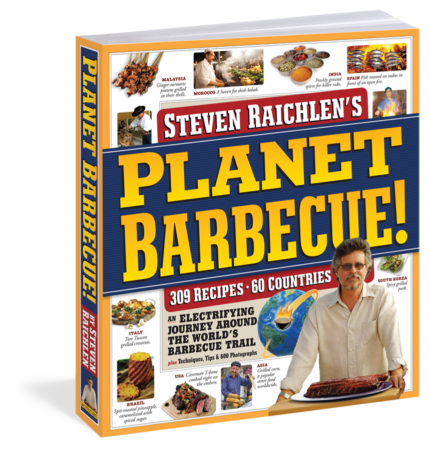 The most ambitious book yet by America's bestselling, award-winning grill expert whose Barbecue! Bible books have over 4 million copies …
Buy Now ‣