Trout Grilled in Grape Leaves
Steven Raichlen
Print
Trout Grilled in Grape Leaves
Recipe Notes
Advance Prep: 30 minutes for soaking the grape leaves
Method: Direct grilling
Equipment: Butchers string (optional)
Ingredients
16 to 24 grape leaves packed in brine
4 whole trout (12 to 16 ounces each), cleaned
1 cup shelled walnuts
2 cloves garlic, chopped
2 tablespoons chopped fresh dill, or 1 tablespoon dried dill
2 tablespoons chopped fresh cilantro or parsley
1 tablespoon fresh lemon juice, or more to taste
4 paper-thin slices of lemon
Recipe Steps
Step 1: Rinse the grape leaves thoroughly under cold running water, then place them in a bowl with cold water to cover and let soak for 30 minutes, changing the water once or twice. Drain the grape leaves and blot dry with paper towels.
Step 2: Rinse the trout inside and out under cold running water, and dry (inside and out) with paper towels. Season (inside and out) with salt and pepper, then set aside.
Step 3: Combine the walnuts, garlic, dill, cilantro, and lemon juice in a food processor and process to a very coarse paste. Taste for seasoning, adding salt and pepper to taste and more lemon juice as necessary; the mixture should be highly seasoned. Spoon the stuffing into the cavities of the trout, dividing it evenly among them.
Step 4: Working with one trout at a time, arrange 2 or 3 grape leaves, overlapping them slightly on a work surface to form a rectangle.
Lay a trout on the grape leaves, and wrap up, tucking the ends under, leaving the head and tail exposed, but enclosing the stuffing. (NOTE: If you like, secure the bundles by tying them at intervals with butchers string.)
Step 5: Set up the grill for direct grilling and preheat to high.
Step 6: When ready to cook, brush and generously oil the grill grate. Place the wrapped fish on the hot grate. Grill the fish until the grape leaves are nicely browned and the fish is cooked through, 3 to 6 minutes per side, testing for doneness by inserting a thin metal skewer into the thickest part of the fish; if it comes out very hot to the touch after 20 seconds, the fish is cooked.
Step 7: Using a thin spatula, transfer the fish to serving plates or a platter. Garnish with the lemon slices, and serve at once. (Unwrap the trout and discard the grape leaves before eating.)
Find This Recipe
And More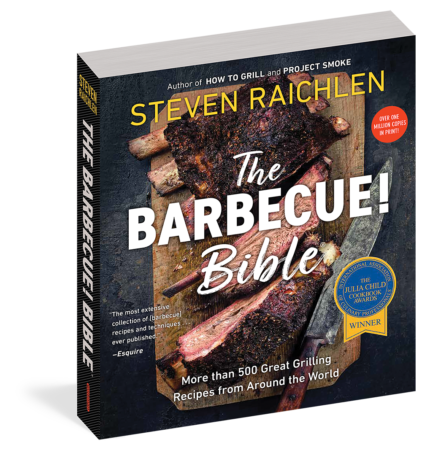 Steven Raichlen's Barbecue! Bible offers the biggest collection of barbecue recipes and grilling recipes ever developed.
Buy Now ‣