Tsukune – Tokyo Style Grilled Chicken Dumplings
Steven Raichlen
Print
Tsukune – Tokyo Style Grilled Chicken Dumplings
Recipe Notes
Advance Prep: For the best results, make the dumpling mixture 1 to 2 hours ahead and refrigerate it until firm.
Yield: Serves 6 as an appetizer, 4 as a main course
Method: Direct Grilling
Ingredients
1-1/4 pounds skinless, boneless chicken thighs or breasts, cut into 1/2-inch pieces
2 ounces chicken fat or fatty bacon (optional; see Note), cut into 1/2-inch pieces
2 scallions, both white and green parts, trimmed and thinly sliced crosswise
1 teaspoon minced peeled fresh ginger
1/2 teaspoon freshly ground black pepper
1-1/2 teaspoons coarse salt (kosher or sea)
1/2 teaspoon ground coriander
1/4 teaspoon ground sansho pepper, or 1/8 teaspoon each additional freshly ground black pepper and ground coriander
2 teaspoons cornstarch
1 egg white
You'll also need:
Small flat bamboo skewers
Recipe Steps
1: Place the chicken pieces, chicken fat or bacon, if using, scallions, ginger, black pepper, salt, coriander, sansho pepper, cornstarch, and egg white in a food processor fitted with a metal blade. Process the mixture to a coarse puree, running the processor in short bursts. Do not overprocess; the mixture should be lumpy—this is essential for the proper texture. Transfer the dumpling mixture to a bowl (or leave it in the processor bowl) and freeze it, covered, until firm, but not frozen, 20 to 30 minutes.
2: Using a large spoon, scoop out a 1-1/2  inch ball of dumpling mixture and mold it onto the end of a skewer to make a flattish oval about 2 inches long, 1 inch wide, and 1/2 inch thick. Place the skewer on a plate or baking sheet lined with plastic wrap. Repeat until all of the dumpling mixture is used up, wetting or oiling your hands as needed to prevent sticking. You should have 16 to 18 dumplings; refrigerate them, covered, for 1 to 2 hours.
3: Set up the grill for direct grilling and preheat it to high.
4: When ready to cook, brush and generously oil the grill grate. Arrange the dumplings on the hot grate at a diagonal to the bars, placing the aluminum foil shield under the exposed ends of the skewers to keep them from burning. Grill the dumplings until golden brown and cooked through, 3 to 4 minutes per side, 6 to 8 minutes in all. Give each skewer a quarter turn after 1-1/2 minutes to create an attractive crosshatch of grill marks (it also helps the dumplings cook more evenly). Transfer the grilled dumplings to a platter and serve at once.
Recipe Tips
NOTE:
I've made the chicken fat optional, but to get the luscious mouthfeel of a proper tsukune you should add it. I save and freeze the lumps of fat from the cavity whenever I roast a chicken; that way I always have some chicken fat on hand. You could substitute diced bacon and you'd get the right texture. Even if the flavor is completely different—and would probably horrify a Japanese person—the result would not be any less amazing.
JUST THE FACTS:
This recipe calls for sansho pepper, an aromatic Japanese spice with a minty, lemony flavor. (If you've eaten in Japan, you may be familiar with a related seasoning: kinome, the tiny leaves of the sansho pepper plant.) You can buy ground sansho pepper at Japanese markets and some specialty food shops. There's no exact substitute, but ground Szechuan peppercorns mixed with a pinch of ground coriander and freshly ground black pepper will get you close.
Find This Recipe
And More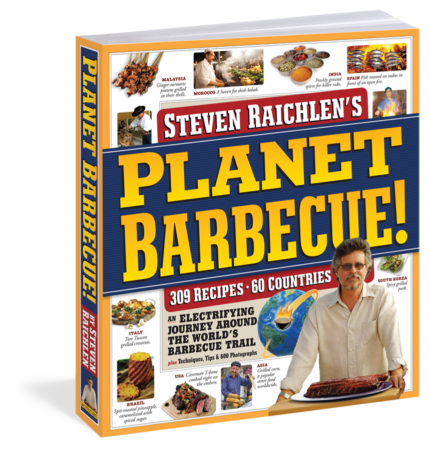 The most ambitious book yet by America's bestselling, award-winning grill expert whose Barbecue! Bible books have over 4 million copies …
Buy Now ‣