Turkey Ham
Steven Raichlen
Call them monster drumsticks. Or turkey ham. There's a lot to like about turkey legs: the affordable price, the moist and tender (but not too tender) meat, and a rich flavor that just doesn't quit. And like so much great barbecue, you get to eat them with your hands. This recipe gives turkey legs the ham treatment—a soak in a brown sugar brine followed by a slow-smoke with apple wood. Serve hot. Serve cold. Serve with your favorite barbecue sauce or chutney.
Other Turkey Recipes:
Print
Turkey Ham
Recipe Notes
Yield: Makes 6 drumsticks; figure on 1 per person
Equipment: An instant-read thermometer; hardwood of your choice (I like apple)—enough for 4 hours of smoking
Ingredients
4 quarts (1 gallon) water
¾ cup coarse salt (sea or kosher)
¾ cup packed light brown sugar
1 tablespoon pink curing salt (Prague Powder No. 1 or Insta Cure No. 1)
5 whole cloves
5 allspice berries, lightly crushed with the side of a chef's knife or cleaver
2 bay leaves, broken into pieces
2 cinnamon sticks (3 inches each), broken into pieces
1 tablespoon whole black peppercorns
6 turkey drumsticks (1 to 1½ pounds each)
Recipe Steps
Step 1: Make the brine: Combine 2 quarts of the water, the sea salt, sugar, curing salt, cloves, allspice berries, bay leaves, cinnamon sticks, and peppercorns in a large stockpot. Bring to a boil over high heat, whisking to dissolve the salt and sugar. Remove from the heat and add the remaining 2 quarts water. Let cool to room temperature, then refrigerate until thoroughly chilled.
Step 2: Rinse the turkey drumsticks in a colander under cold running water.
Step 3: Add the turkey drumsticks to the brine, making sure they're completely submerged. You can hold them down with a dinner plate or a resealable plastic bag filled with ice. Brine the drumsticks in the refrigerator for 48 hours.
Step 4: When you're ready to smoke, drain the drumsticks and discard the brine. Pick off and discard any clinging spices. Blot the drumsticks dry with paper towels.
Step 5: Set up your smoker following the manufacturer's instructions and preheat to 225° to 250°F. Add the wood as specified by the manufacturer.
Step 6: Place the drumsticks on the rack in the smoker. Smoke the turkey until darkly browned and very tender, 3 to 4 hours, or as needed. You're looking for an internal temperature of 170°F on an instant-read thermometer. (Make sure the probe doesn't touch bone, or you'll get a false reading.)
Step 7: Do not be alarmed (on the contrary—be proud) if the meat under the skin is pinkish: That's a chemical reaction to the cure and the smoke. Serve hot or at room temperature. In the unlikely event you have leftovers, store in the refrigerator; the drumsticks will keep for at least 3 days.
Recipe Tips
You could also brine and smoke turkey breast in this manner. It'll need 2 to 3 hours of smoking.

Find This Recipe
And More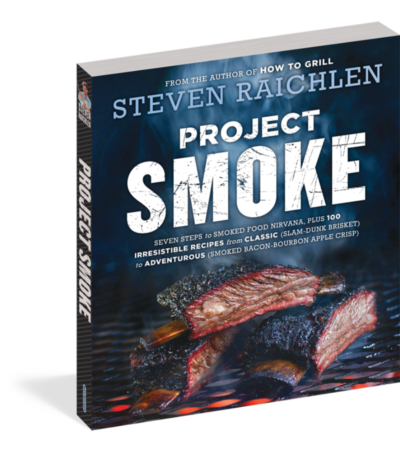 New York Times Bestseller Project Smoke is the How to Grill of smoking, both a complete step-by-step guide to mastering …
Buy Now ‣