West Indian Squash Gratin
Steven Raichlen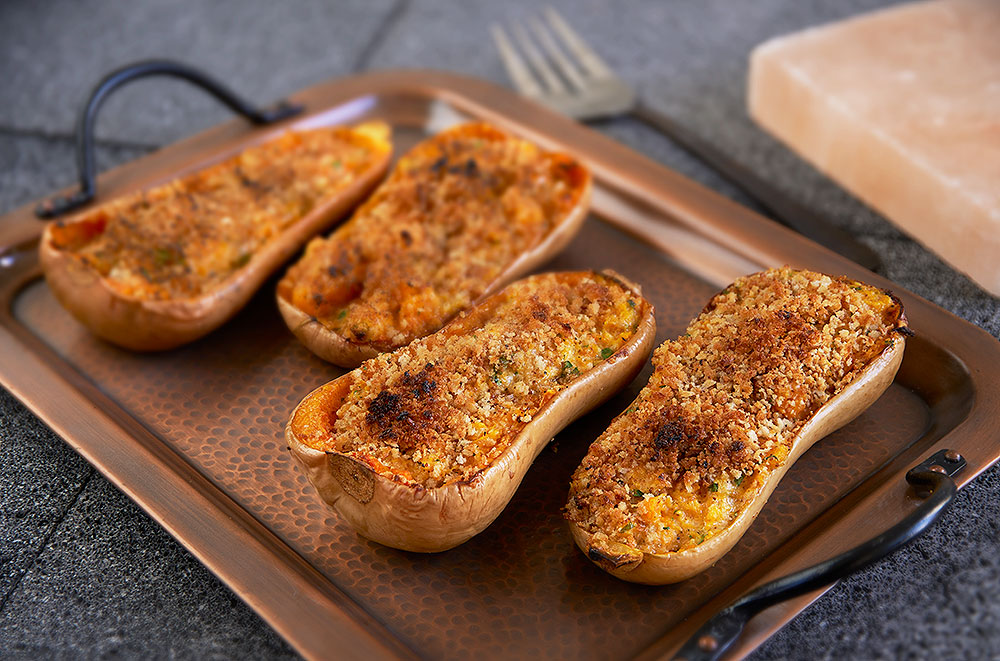 Other Recipes from Planet Barbecue Episode 112 – Planet Barbecue
Print
West Indian Squash Gratin
Recipe Notes
Yield: Serves: 4 as a main course; 8 as a side dish
Method: Grilling on a salt slab
Ingredients
2 butternut squash, halved lengthwise and seeded
8 tablespoons butter, melted
2 habanero or Scotch bonnet chiles
1/2 cup heavy cream, or more as needed
1/4 teaspoon freshly grated nutmeg
1/4 cup minced fresh flat-leaf parsley
1 cup finely grated Parmesan
Coarse salt (sea or kosher), to taste
Freshly ground black pepper, to taste
1 1/4 cups toasted bread crumbs or panko
You'll also need:
1 2 large Himalayan salt slabs; smoking wood chips, soaked in water to cover for 30 minutes, then drained
Recipe Steps
1: Arrange the salt slab or slabs on the cold grill grate. Heat the grill to medium-high. Put the wood chips in a smoker box or when ready to cook, throw them directly on the coals.
2: Add the chiles to the melted butter and keep warm.
3: Arrange the squash halves, cut sides down, on the salt slabs. Grill until squeezably soft, 40 to 60 minutes. Remove the squash from the salt slabs and let cool slightly. (Maintain the heat in the grill and leave the salt slabs in place.)
4: Scrape the flesh from the insides of the squash, leaving a 1/4 inch shell for stability. Place the flesh in a large bowl. Using two knives, coarsely dice the squash. (Alternatively, use a potato masher.) Stir in the cream, nutmeg, and Parmesan. Season with salt and pepper. If the mixture is too stiff, add a bit more cream.
5: Divide the mixture between the squash halves. Top with bread crumbs and drizzle with butter. Return the squash to the salt slabs, stuffing sides up, and grill for an additional 15 to 20 minutes, or until the bread crumbs are nicely browned and the stuffing is bubbling. Serve hot.
Recipe Tips
Our thanks to the sponsors of Planet Barbecue Season 1:

Steven Raichlen's Planet Barbecue is a production of Barbacoa, Inc., and Resolution Pictures. © 2023 Barbacoa, Inc. Photos by Chris Bierlein