Wild Mushroom Mixed Grill on Grilled Bread
Steven Raichlen
Print
Wild Mushroom Mixed Grill on Grilled Bread
Recipe Notes
Method: Direct grilling
Equipment: Grill wok or skillet, or 10 to 12 bamboo skewers; 1 cup wood chips (preferably oak), unsoaked; spray oil (optional)
Ingredients
1 pound mixed mushrooms (preferably exotic mushrooms, including shiitakes, morels, oyster mushrooms, hedgehog mushrooms, lobster mushrooms, and the like)
3 tablespoons extra virgin olive oil
2 cloves garlic, minced
Coarse salt and black pepper
3 plum tomatoes, grilled, seeded, and diced
1 medium onion, quartered, grilled, and diced
2 jalapeño peppers, or more to taste, grilled, sliced crosswise, and seeded (for a hotter mixed grill, leave the seeds in)
2 tablespoons chopped cilantro, plus small sprigs for garnish
2 tablespoons lime juice
Thin lime slices, for garnish
Recipe Steps
Step 1: Set up the grill for direct grilling and preheat to high. If using a gas grill, place the wood chips in the smoker box or in a smoker pouch and preheat until you see smoke.
Step 2: Using a damp paper towel, wipe the mushrooms clean. Trim the mushrooms and cut any large ones in half or quarters, so that all are roughly the same size. When ready to cook, if using a charcoal grill, toss the wood chips on the coals.
Step 3: Stir-grill method: Place the grill wok on the grill to preheat. When ready to cook, lightly spray the wok with oil, removing it from the grill when you do so. Toss the mushrooms with the oil and add them to the wok. Grill until the mushrooms are nicely browned, 6 to 10 minutes, shaking the wok and stirring the mushrooms with tongs to ensure even grilling. Generously season with salt and pepper.
Skewer method: Skewer the mushrooms, taking care not to break the caps. When ready to cook, brush one side of the mushrooms with oil and season with salt and pepper. Grill the mushrooms 3 to 5 minutes per side, basting with oil before and after turning; when done, the mushrooms will be browned and tender, 6 to 10 minutes in all.
Step 4: Transfer the grilled mushrooms to a large bowl (unskewer if necessary). Stir in the garlic, tomatoes, onion, jalapeños, chopped cilantro, and lime juice. Add salt and pepper to taste. Garnish with the lime slices and cilantro sprigs and serve at once.
Find This Recipe
And More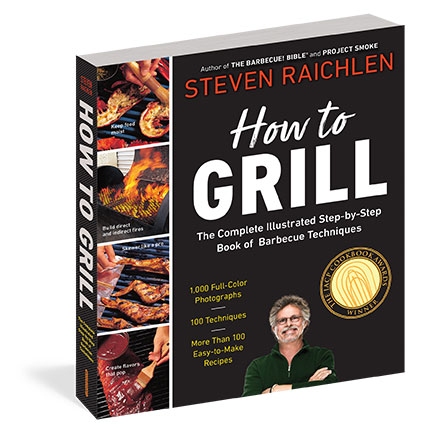 Without a doubt the most interesting, comprehensive, and well-thought-out book on grilling ever and it's destined to be in the …
Buy Now ‣