Asian Hummus
Steven Raichlen
Here's a twist on commonplace hummus featuring the Asian flavors of ginger, soy sauce, and sesame oil in place of the traditional Middle Eastern seasonings.
Print
Asian Hummus
Recipe Notes
Total Time: 10 minutes
Yield: Makes 1-1/2 cups
Equipment: A food processor
Ingredients
1 scallion, both white and green parts, trimmed and thinly sliced
1 can (15 ounces) chickpeas (garbanzo beans), preferably organic, drained
1 piece (1 inch) fresh ginger, peeled and coarsely chopped
1 clove garlic, peeled and coarsely chopped
1 tablespoon soy sauce, or more to taste
1 tablespoon rice vinegar, or more to taste
1 tablespoon Asian (dark) sesame oil, or to taste
Crackers or Sesame Pita Chips (see step 3), for serving
Recipe Steps
Step 1: Set aside 1 tablespoon of the scallion greens. Place the chickpeas, remaining scallion, ginger, and garlic in a food processor and puree to a smooth paste. Add the soy sauce, rice vinegar, and sesame oil, running the processor in short bursts and adding a few tablespoons of water if necessary to obtain a smooth dip.
Step 2: Taste for seasoning, adding more soy sauce, rice vinegar, and/or sesame oil as necessary. Transfer the hummus to a serving bowl and sprinkle the reserved scallion greens on top.
Step 3: Serve with Sesame Pita Chips or your favorite Asian-style rice crackers for dipping.
Recipe Tips
To make traditional Middle Eastern hummus, puree the chickpeas with 1 clove garlic, 3 to 4 tablespoons extra-virgin olive oil, 2 to 3 tablespoons freshly squeezed lemon juice, and an optional 3 tablespoons tahini (sesame seed paste).
Find This Recipe
And More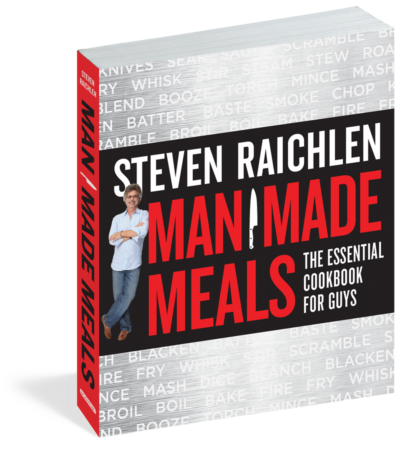 Man Made Meals is about the tools and techniques (guess what, grillers, you still get to play with knives and fire.) It's about adopting secrets from the pros—how to multitask, prep before you start cooking, clean as you go. It's about understanding flavor and flavor boosters, like anchovies and miso, and it's about essentials: how to […]
Buy Now ‣