Bool Kogi (Korean Sesame Grilled Beef)
Steven Raichlen
Bool kogi is eaten like moo shu or fajitas, using lettuce instead of a pancake or tortilla.
Print
Bool Kogi (Korean Sesame Grilled Beef)
Recipe Notes
Advance Prep: 1 to 2 hours for marinating the meat
Yield: Serves 6
Method: Direct grilling
Ingredients
2 pounds beef tenderloin tips, or boneless sirloin
1/2 cup soy sauce
1/3 cup sugar
3 tablespoons sake, rice wine, or sherry
2 tablespoons Asian (dark) sesame oil
8 cloves garlic, thinly sliced
4 scallions, both white and green parts, trimmed and minced
2 tablespoons sesame seeds, toasted
1/2 teaspoon freshly ground black pepper
Garlic cloves (optional), brushed with sesame oil and skewered on large toothpicks
1 head romaine lettuce, separated into leaves, rinsed, and spun dry
Recipe Steps
Step 1: If using tenderloin tips, butterfly them to obtain broad flat pieces of meat; each should be about 4 inches long and wide and 1/4 inch thick. If using sirloin, cut it across the grain into 1/4-inch slices. Whichever cut you use, using the side of a cleaver or a rolling pin, pound the slices between two sheets of plastic wrap to flatten them to a thickness of 1/8 inch. Place the meat in a large nonreactive baking dish and set aside while you prepare the marinade.
Step 2: Combine the soy sauce, sugar, sake, sesame oil, garlic, scallions, sesame seeds, and pepper in a small bowl and whisk until the sugar dissolves. Pour the marinade over the meat in the baking dish and toss thoroughly to coat. Let marinate in the refrigerator, covered, for 1 to 2 hours.
Step 3: Set up the grill for direct grilling and preheat to high.
Step 4: When ready to cook, brush and oil the grill grate. Add the garlic kebabs (if using) to the hot grate and grill for 4 to 5 minutes. Then arrange the pieces of meat on the grate and grill, turning with tongs, until nicely browned on both sides, 1 to 2 minutes per side. Turn the garlic kebabs as the meat cooks. Transfer the meat to a platter when it is done and unwrap the garlic.
Step 5: Pour the Asian Pear Dipping Sauce into 6 small bowls, one for each diner. To eat, take a piece of meat and a grilled garlic clove (if using) and wrap them in a lettuce leaf. Dip the leaf in the dipping sauce and eat at once.
Find This Recipe
And More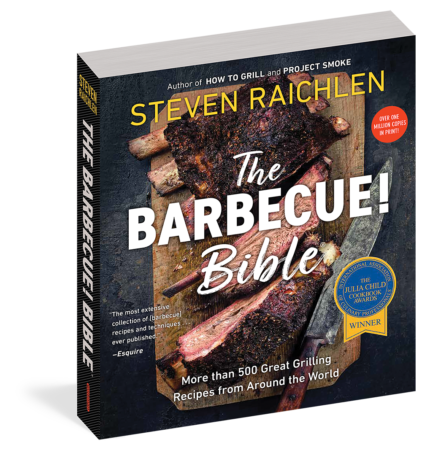 Steven Raichlen's Barbecue! Bible offers the biggest collection of barbecue recipes and grilling recipes ever developed.
Buy Now ‣