Asian Pear Dipping Sauce
Steven Raichlen
This sauce reflects the Korean penchant for combining sweet, salty, and nutty flavors in a single dish. Serve it with any Korean meat dish.
Print
Asian Pear Dipping Sauce
Recipe Notes
Yield: Makes about 2 1/2 cups
Ingredients
1/2 cup soy sauce
1/2 cup sake or dry sherry
1/4 cup sugar
1 small Asian pear, peeled, cored, and finely chopped
4 scallions, both white and green parts, trimmed and finely chopped
1/4 cup finely chopped onion
2 tablespoons sesame seeds, toasted
Recipe Steps
Step 1: Combine the soy sauce, sake, sugar, pear, scallions, onion, and sesame seeds in a medium-size bowl and stir until thoroughly mixed and the sugar dissolves.
Step 2: Divide the sauce among as many small bowls as there are people, so each person has his own for dipping, and serve at once.
Recipe Tips
Find This Recipe
And More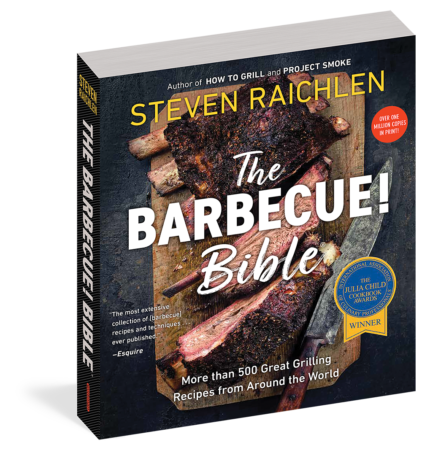 Steven Raichlen's Barbecue! Bible offers the biggest collection of barbecue recipes and grilling recipes ever developed.
Buy Now ‣