Chimichurri
Steven Raichlen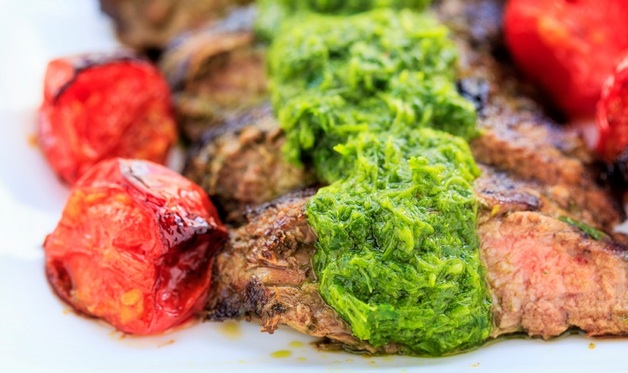 Argentina is home of a pesto-like pugilist called chimichurri. The sauce owes its freshness and bright green color to flat leaf parsley and its pungency to tongue pounding doses of garlic. (Talk about ingenuity: Parsley is nature's mouthwash, so it helps counteract the breath-wilting fumes of the garlic.) Those are the basic ingredients, but there are as many variations as there are Argentinian grill jockeys. Some even enliven their chimichurri with grated carrot or red bell pepper; others kick up the heat with hot pepper flakes or fresh chilies.
Print
Chimichurri
Recipe Notes
Yield: Makes 2 cups; enough to serve 6 to 8
Ingredients
1 large bunch of fresh flat leaf parsley, washed, stemmed, and dried
8 cloves of garlic, peeled
3 tablespoons minced onion
5 tablespoons distilled white vinegar, or more to taste
5 tablespoons water
1 teaspoon coarse salt (kosher or sea)
1/2 teaspoon dried oregano
1/2 to 1 teaspoon hot pepper flakes, or to taste
1/2 teaspoon freshly ground black pepper
1 cup extra-virgin olive oil
Recipe Steps
Step 1: Finely chop the parsley and garlic in a food processor. Add the onion, vinegar, water, salt, oregano, pepper flakes, and black pepper and process in brief bursts until the salt crystals are dissolved. Add the oil in a thin stream. Do not over process; the chimichurri should be fairly coarse. Correct the seasoning, adding salt or vinegar to taste.
Step 2: Chimichurri is quick to make, so I usually prepare it as I need it. If you do choose to store it, transfer it to a jar, cover, and refrigerate. It will keep for several weeks, but it loses its bright green color in a day or two. Be sure to taste and reseason before serving.
Recipe Tips
Try these other Latin American sauces and condiments:
Find This Recipe
And More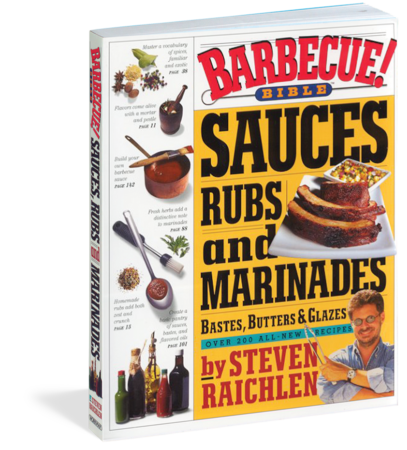 Marinate skewers of beef tips in Tex-Mex Tequila-Jalapeno Wet Rub before putting them on the grill. Or slather pork chops …
Buy Now ‣