Crazy Rice (Arroz Loco)
Steven Raichlen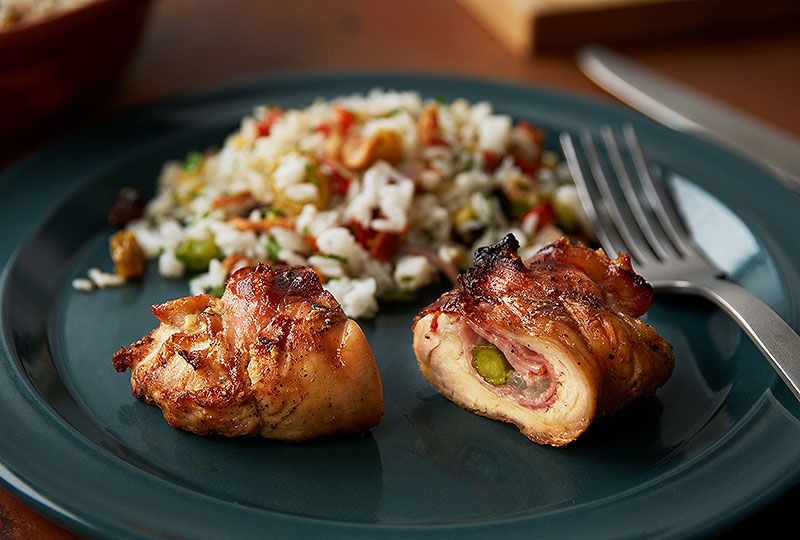 This recipe is used with Rio Chicken Rollatini with Crazy Rice in Planet Barbecue Episode 108: The Brazilian Grill
This colorful side dish is the Brazilian version of fried rice. It turns up at churrascarias and restaurants in Rio de Janeiro and Sao Paolo, with each chef trying to outdo his peers with the elaborateness of the flavorings. The version here comes from a wonderful restaurant I visited called Candidos, located in the port town of Pedra de Guaratiba, an hour south of Rio.
Serves: 4 as a side dish
Print
Crazy Rice (Arroz Loco)
Ingredients
For the rice:
1 1/2 cups long-grain rice
1/2 teaspoon coarse salt (sea or kosher)
2 tablespoons unsalted butter
For the flavorings:
1 tablespoon extra virgin olive oil
3 slices of bacon, cut into 1/4 inch slivers (see Note)
1/2 medium red onion, peeled and diced
1 clove garlic, peeled and minced
1/2 each medium red bell pepper and green bell peppers, cored, seeded, and cut into 1/4 inch dice
1/2 cup cooked corn kernels, preferably fresh corn
1/4 cup dark raisins
1/4 cup golden raisins
3 tablespoons chopped fresh flat-leaf parsley
Coarse salt (sea or kosher)
Freshly ground black pepper
Recipe Steps
1: Prepare the rice: Place the rice in a large bowl and add cold water to cover by 3 inches. Swirl the rice around with your fingers until the water clouds, then put the rice in a strainer to drain. Repeat the process until the water remains clear. This could take 4 to 6 rinses.
2: Place the rice in a large, heavy pot. Add enough water to cover by 3/4 inch (about 2 1/2 cups). Stir in the salt and butter and bring to a boil over high heat. Tightly cover the pan, reduce the heat to low, and cook the rice until it is tender, about 18 minutes, but check after 15 minutes: If the rice is too wet, set the lid ajar to allow some of the liquid to evaporate. If the rice is too dry, add 2 to 3 more tablespoons of water. Remove the pot from the heat and let the rice stand, covered, for 5 minutes. Fluff it with a fork and set aside.
3: Prepare the flavorings: Heat the olive oil in a large skillet over medium heat. Add the bacon and cook until lightly browned, about 4 minutes. Pour off all but 2 tablespoons of the fat. Add the onion, garlic, green and red bell peppers, corn, raisins, and the parsley. Cook until the onion is golden, about 5 minutes. Stir the rice into the flavorings and cook until thoroughly heated through, about 2 minutes. Taste for seasoning, adding salt and black pepper to taste, then serve.
Note: To make a vegetarian version of Crazy Rice, simply leave out the bacon and increase the olive oil to 2 tablespoons.
Recipe Tips
Our thanks to the sponsors of Planet Barbecue Season 1:

Steven Raichlen's Planet Barbecue is a production of Barbacoa, Inc., and Resolution Pictures. © 2023 Barbacoa, Inc. Photos by Chris Bierlein