Danish Smoked Shrimp
Steven Raichlen
The Røgerie Gudhjem is one of two dozen working smokehouse-restaurants scattered across Bornholm Island in Denmark. Founded in 1912, it now serves a thousand hungry people a day in summer. They flock here for house-smoked salmon and herring—the latter topped with raw onion and raw egg yolk and picturesquely christened Sol over Gudhjem (literally "sun over God's home"). For me, the Røgerie's star attraction is the hyper-sweet Baltic Sea shrimp smoked in the shell, with nothing more in the way of seasoning than smoke from local beech wood. Not even salt or pepper. The fireworks come from the pristine shrimp—and from the piquant Danish sauce.
More Shrimp Recipes:
Print
Danish Smoked Shrimp
Recipe Notes
Yield: Makes 2 pounds; enough to serve 6 to 8 as a starter, 4 as a main course
Method: Hot-smoking
Equipment: Beech wood or alder—enough for 1 hour of smoking
Ingredients
2 pounds large shrimp (preferably fresh, with shells intact and heads on, if possible)
Vegetable oil, for oiling the rack
Lemon-Dill Sauce, for serving
Recipe Steps
Step 1: Set up your smoker following the manufacturer's instructions and preheat to 225° to 250°F. Add the wood as specified by the manufacturer.
Step 2: Rinse the shrimp, drain, and blot dry. Arrange the shrimp on a lightly oiled wire rack and place in the smoker. Smoke until golden brown and cooked through (the shrimp will feel firm when squeezed), 30 to 60 minutes, or as needed (depending on the size of the shrimp).
Step 3: Transfer the shrimp on their wire rack to a rimmed baking sheet to cool to room temperature. Or eat them hot out of the smoker, or chilled the next day. Dig in "peel-them-yourself-style" (twist to remove the heads and be sure to suck out the juices) with the Lemon-Dill Sauce for dipping.
Recipe Tips
So how do you clean shrimp with the shells on? Easy. Make a lengthwise slit down the back of each shrimp using kitchen scissors. Pull or scrape out the black vein using the tine of a fork or the point of a bamboo skewer.

Find This Recipe
And More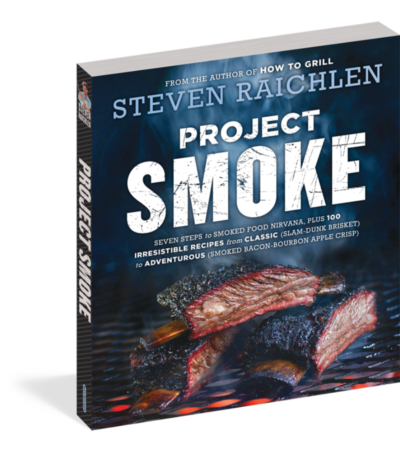 New York Times Bestseller Project Smoke is the How to Grill of smoking, both a complete step-by-step guide to mastering …
Buy Now ‣