Fennel-Grilled Branzino Flambeed with Pernod
Steven Raichlen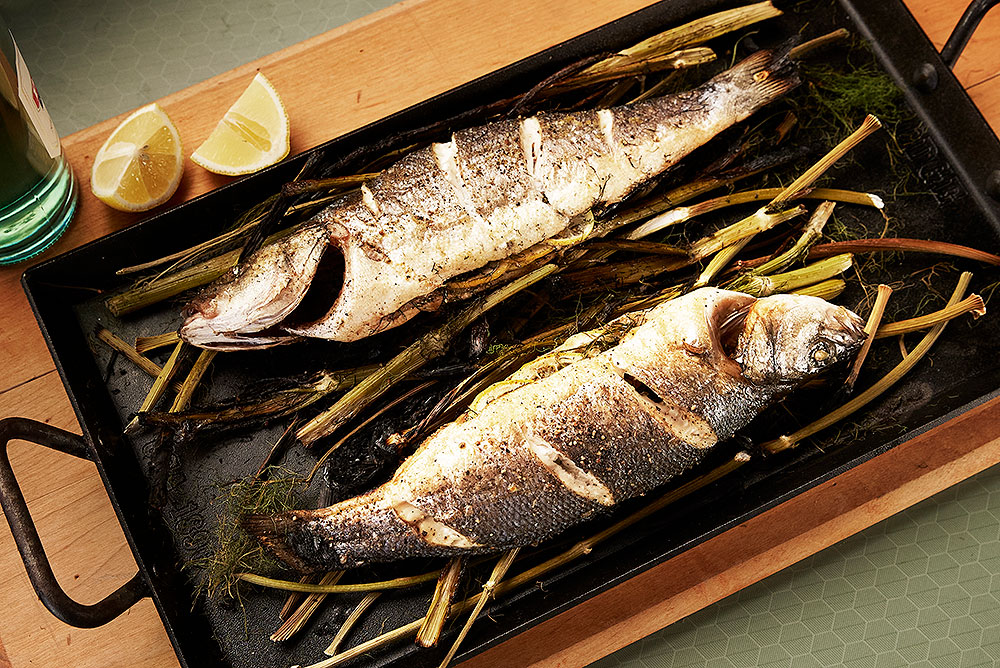 Other Recipes from Episode 410: The Mediterranean Grill
Print
Fennel-Grilled Branzino Flambeed with Pernod
Recipe Notes
Advance Prep: 10 to 12 hours for drying fennel stalks, if using (optional)
Yield: Serves 2 generously
Method: Direct grilling
Ingredients
2 whole branzino, cleaned and trimmed of fins, heads and tails left on
Coarse salt (sea or kosher) and freshly ground black pepper
10 to 12 dried fennel stalks (see Note below; optional) or 3 bulbs fresh fennel
3 tablespoons extra virgin olive oil
1/2 cup Pernod or other anise-flavored liqueur
Lemon wedges, for serving
You'll also need:
1 Long-handled spatula; hinged fish basket (optional)
Recipe Steps
1: Rinse the fish, inside and out, under cold running water, then drain them and blot dry with paper towels. Make 3 diagonal slashes, to the bone, in each side of each fish. Season the fish, inside and out (including the side slashes), with salt and pepper. Place 2 dried or fresh stalks in the cavity of each fish. Brush or drizzle the fish on both sides with the olive oil and season again with salt and pepper.
2: Set up the grill for direct grilling and heat to medium-high.
3: When ready to cook, arrange 6 fennel stalks (fresh or dried) on a serving platter. Place the remaining fennel stalks directly on the hot coals or, if using a gas grill, on the grill grate. Brush and oil the grill grate.  If you're worried about the fish sticking, use hinged fish-grilling baskets; otherwise, place
both fish directly on the hot grate or on top of the fennel
stalks and grill until the skin on the first side is dark and crisp
and the flesh is cooked through to the bone on that side,
8 minutes. Turn each fish carefully with a long-handled spatula
and cook on the second side until the flesh breaks into firm
flakes when pressed with a finger, 8 minutes longer.
4: During the last 2 or so minutes the fish cooks, warm the Pernod in a heavy saucepan at the side of the grill; don't let it boil or even get too warm to touch. (Body temperature is ideal.)
5: Using a spatula, carefully transfer each fish to the fennel stalk–lined platter. Pour the warmed Pernod over the fish and then carefully ignite the liqueur with a long match. Carefully bring the flaming fish to the table. When the flame dies out, fillet the fish as described on page and serve at once, with lemon wedges.
Note:: To dry fennel stalks, heat your oven to 200 degrees. Take 2 or 3 bulbs of fennel with their stalks and leaves attached and cut the stalks off flush with the bulbs; reserve the bulbs for another use, or coat with olive oil, season with salt and pepper, and grill alongside the fish. Cut away the feathery leaves and arrange the stalks in one layer on a baking sheet. Bake the stalks for 3 hours. Turn off the heat and leave the stalks in the oven overnight. If not using the stalks immediately, they can be stored in a resealable plastic bag for up to 3 months.
Recipe Tips