Home Smoked Bacon
Steven Raichlen
When it comes to cool factor, not to mention bragging rights, nothing beats home smoked bacon. This is everything you dream about in bacon. It's a little sweet, a little salty, nice smoke flavor, but above all, you taste the pork.
This recipe is best used with pork belly from a heritage hog called "Berkshire". The pork belly has beautiful alternating layers of meat and fat. Heritage animals are old-times breeds that were developed for their flavor, not their meat yield or fast maturing. When you buy your pork belly, ask your butcher to remove the skin for you.
The pork belly is cured with kosher salt, black pepper, brown sugar, and pink curing salt (such as Prague Powder #1) for five days in the refrigerator. Then, the bacon is smoked for about four hours, or until the internal temperature reaches at least 145 degrees.
Since the bacon is cured and smoked, you can eat it as-is, or you can also fry it in a skillet or cook it on the grill!
Other Bacon Recipes:
Print
Home Smoked Bacon
Recipe Notes
Yield: Makes about 3 pounds
Method: Hot smoking (but at a relatively low temperature)
Equipment: Bradley smoker; hickory chips
Ingredients
1 3- to 4-pound pork belly, skinned (rind removed)
For the cure:
1/3 cup kosher salt
3 tablespoons freshly ground black pepper or cracked black peppercorns
2 teaspoons pink curing salt, such as Prague Powder #1
1/3 cup brown sugar, granulated sugar, maple sugar, freeze-dried sugar cane juice (Sucanat), or a mixture of these sweeteners
Recipe Steps
Step 1: Place the salt, pepper, and pink salt in a mixing bowl and mix well with your fingers. Mix in the sugar, breaking up any lumps in brown sugar with your fingers.
Step 2: Place the pork belly on a rimmed baking sheet. Sprinkle half of the cure on top and rub it into the belly. Invert and sprinkle the remaining cure on the bottom and rub it in. Place the belly (plus any excess cure) in a large sturdy resealable plastic bag in a foil pan or roasting pan on the bottom shelf of your refrigerator. (Try not to get any cure in the tracks of the plastic bag as it won't close properly.)
Step 3: Cure the belly for 5 to 7 days, turning it over each day to redistribute the liquid that will accumulate.
Step 4: Drain the pork belly in a colander and rinse well with cold water. Blot it dry with paper towels. Place the belly on a wire rack over a rimmed baking sheet in the refrigerator or in a cool place in front of a fan (the goal is to create good airflow) and let it dry until the surface feels papery and tacky, at least 4 hours, or as long as overnight. (This last step is optional.)
Step 5: Set up your smoker following the manufacturer's instructions and preheat it to a temperature of not less than 160 degrees and not more than 175. Add wood according to the manufacturer's instructions. Place the pork belly skin (fat) side up on the grate. Smoke the belly until bronzed with wood smoke and firm. The internal temperature should be between 150 and 160 degrees. (Insert an instant-read thermometer probe through the side of the bacon at one end.) This will take 2-1/2 to 3 hours.
Step 6: Transfer the bacon to a wire rack over a baking sheet and let it cool to room temperature. Tightly wrap it in butchers' paper or plastic wrap and refrigerate for at least 4 hours, ideally overnight.
Step 7: Slice and cook (grill, panfry, or bake in the oven) and serve. You'll rock the hood with this one.
Find This Recipe
And More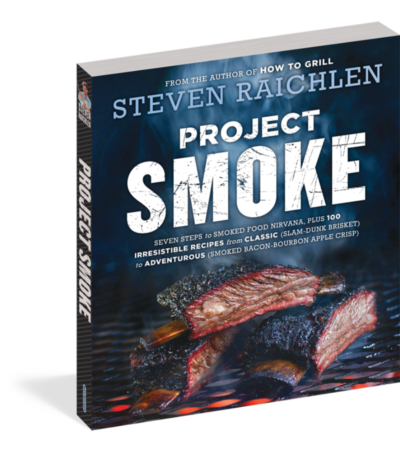 New York Times Bestseller Project Smoke is the How to Grill of smoking, both a complete step-by-step guide to mastering …
Buy Now ‣