Jamaican Jerk Spareribs
Steven Raichlen
Barbecue was born in the Caribbean, literally. Our word comes from the Taino Indian term, barbacoa. That was the name of a wooden grate built over a smoky fire, still used in Jamaica today.
The spare rib is a real pork rib lovers rib. It's bigger than a baby back rib — tougher, more fat, more connective tissue. But if you cook a spare rib right, you are rewarded with this incredibly rich flavor. Jamaican Jerk Spare Ribs — it's everything a rib should be.
More Ribs Recipes:
Print
Jamaican Jerk Spareribs
Recipe Notes
Yield: Serves 4
Method: Hot smoking/indirect grilling
Equipment: Pit Barrel Cooker; pimento wood, soaked for 30 minutes, then drained
Ingredients
For the jerk seasoning:
12 scotch bonnet chiles, stemmed and seeded (for spicier jerk, leave the seeds in)
2 bunches escallions (West Indian green onions) or regular scallions, trimmed and rough chopped
6 cloves garlic, peeled and rough chopped
A 2 inch piece of fresh ginger, thinly sliced
1/3 cup chopped fresh cilantro
2 teaspoons fresh or dried thyme
2 tablespoons brown sugar
4 teaspoons coarse salt (kosher or sea)
1 teaspoon ground allspice
1 teaspoon ground cinnamon
1 teaspoon freshly ground black pepper
1/4 cup vegetable oil
1/4 cup dark rum
2 tablespoons soy sauce
2 racks of spare ribs (6 to 8 pounds)
Lime wedges for serving
Recipe Steps
Step 1: Make the jerk seasoning: Place the chiles, scallions, garlic, ginger, cilantro, thyme, sugar, salt, allspice, cinnamon, pepper, and salt in food processor and grind to a coarse paste. Work in the oil, rum, and soy sauce to obtain a thick, but spreadable paste. Correct the seasoning, adding any ingredient you desire: the jerk seasoning should be highly seasoned.
Step 2: Prepare the ribs: Remove the thin, papery membrane from the back of each rack of ribs. Turn a rack meat side down. Insert a sharp implement, such as the tip of a meat thermometer, under the membrane (the best place to start is right next to the first rib bone). Using a dishcloth or pliers to gain a secure grip, pull off the membrane. Repeat with the other rack.
Step 3: Place the ribs on a baking sheet. Spread the jerk seasoning on the ribs on both sides with a rubber spatula and marinate in the refrigerator for at least 4 hours, or as long as overnight. You can also marinate the ribs in large resealable plastic bags.
Step 4: Set up your smoker following the manufacturer's instructions and preheat to 225 degrees.
Step 5: Arrange the ribs, bone side down, in the smoker. (We hung them from the hooks in the Pit Barrel Cooker.) Add the pimento wood as specified by the manufacturer. Smoke the ribs until tender and the meat has shrunk back from the ends of the bones by 1/2 inch, 4 to 5 hours.
Step 6: Transfer the ribs to a large platter or cutting board, and cut the racks widthwise in half. Serve at once with lime wedges for squeezing.
Find This Recipe
And More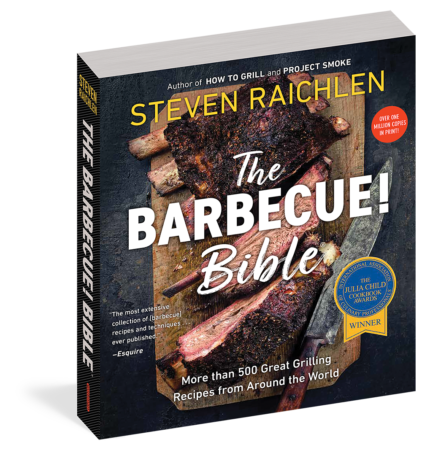 Steven Raichlen's Barbecue! Bible offers the biggest collection of barbecue recipes and grilling recipes ever developed.
Buy Now ‣