Korean-Style Butterflied Leg of Lamb
Steven Raichlen
Print
Korean-Style Butterflied Leg of Lamb
Recipe Notes
Advance Prep: 4 to 24 hours for marinating the lamb
Yield: Serves 6 to 8
Method: Direct grilling
Ingredients
Butt end of a leg of lamb (4 to 5 pounds bone-in; 3 to 4 pounds butterflied)
For the marinade:
2 tablespoons peeled, chopped fresh ginger
4 cloves garlic, chopped
1 bunch scallions, trimmed and finely chopped (set aside 1/4 cup scallion greens for garnish)
3/4 cup soy sauce
3/4 cup sake, rice wine, or dry sherry
1/2 cup Asian (dark) sesame oil
1 tablespoon sugar
1/2 teaspoon freshly ground black pepper
For the glaze:
3 tablespoons butter
1 tablespoon sugar
For serving:
2 Asian or Bosc pears, cut into thin wedges and seeded
1 head romaine lettuce (or two heads of romaine hearts), separated into leaves and washed
Recipe Steps
Step 1: Butterfly the lamb or have your butcher do it.
Step 2: Prepare the marinade. Combine the ginger, garlic, and scallions in a food processor and process to mix. Work in the soy sauce, sake, sesame oil, sugar, and pepper and process to mix. Pour 1/3 of this mixture over the bottom of a baking dish just large enough to hold the lamb. Arrange the lamb on top and pour the remaining marinade over it. Marinate the lamb, covered, in the refrigerator for 4 to 6 hours (or even overnight the longer the better), turning the lamb once or twice to insure even marinating.
Step 3: Set up your grill for direct grilling and preheat to medium high.
Step 4: Drain the lamb, pouring any marinade into a saucepan. Add the butter and sugar and boil the mixture until thick and syrupy, 3 minutes. You'll use this glaze for basting.
Step 5: Brush and oil the grill grate. Spread out the lamb on the grate, fat-side down. Grill until the lamb is cooked to taste, 10 to 15 minutes per side for medium-rare. (If the lamb starts to burn, lower the heat to medium or move the lamb to a cooler section of the grill.) During the last 5 minutes on each side, brush the lamb with the glaze.
Step 6: Grill the pear wedges over the hottest section of the grill, turning the slices 90 degrees after a minute or so to create a handsome crosshatch of grill marks.
Step 7: Transfer the lamb to a cutting board and let rest for 5 minutes. Using a sharp carving knife or electric knife, thinly slice the lamb across the grain. Arrange the slices on a platter and sprinkle with the reserved scallion greens. Arrange the grilled pears, lettuce leaves, and bowls of dipping sauce on the platter.
Step 8: To eat, wrap a piece of lamb and a wedge of pear in a lettuce leaf, dip it into the sauce (if using), and pop it into your mouth.
Find This Recipe
And More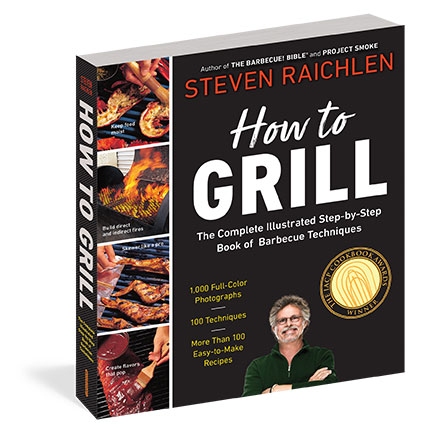 Without a doubt the most interesting, comprehensive, and well-thought-out book on grilling ever and it's destined to be in the kitchens and backyards of both professionals and home cooks. Every detail is made clear and easy in a concise and inspirational way. Spark it up! (Mario Batali, Molto Mario (The Food Network), Mario Batali's Simple […]
Buy Now ‣