Loco Moco
Steven Raichlen
Rice Bowl with Fried Eggs, Mini-burgers, and Pac-Rim Gravy
Hamburger, fried egg, white rice, and instant gravy may not sound like a formula for gustatory wonderment. But for many Hawaiians, loco moco (for that's what they call this rib-sticking combination) is the ultimate comfort food, equally welcome at breakfast, lunch, dinner, or as a midnight snack. In the last few years, I've watched loco moco move from the confines of the Aloha State to hip restaurants in Los Angeles, Portland, and Seattle, and along the way, it's gotten a makeover. My rendition features Pac-Rim seasonings, like ginger, sesame oil, and hoisin sauce, and homemade gravy in place of the traditional store-bought glop. Surf's up, guys. Loco moco will make sure you don't meet it on an empty stomach.
More Ground Beef Recipes:
Print
Loco Moco
Recipe Notes
Ingredients
1 bunch scallions, trimmed, both white and green parts thinly sliced crosswise; set aside 2 tablespoons of the green parts for serving
1 piece (3 inches) ginger, peeled and minced
2 cloves garlic, peeled and minced
2 pounds ground beef
4 tablespoons soy sauce, or more to taste
4 tablespoons hoisin sauce
3 tablespoons Asian (dark) sesame oil
½ teaspoon freshly ground black pepper
4 cups warm cooked rice
½ teaspoon hot red pepper flakes
½ cup mirin (sweet rice wine) or sake
1 ½ cups beef or chicken stock, preferably homemade
1 tablespoon brown sugar or granulated sugar, or more to taste
1 teaspoon cornstarch dissolved in 1 tablespoon water (stir it to form a paste)
2 tablespoons (¼ stick) butter
4 large eggs
Recipe Steps
1: Place half of the scallions, ginger, and garlic in a mixing bowl. Add the beef, 2 tablespoons each of soy sauce, hoisin sauce, and sesame oil, and the black pepper, and stir to mix. Lightly wet your hands with cold water and divide the meat into 12 equal-size portions. Form each portion into a 1 1/2-inch patty. Arrange the patties on a plate lined with plastic wrap and cover them with more plastic wrap. Refrigerate the patties until you are ready to cook them.
2: Divide the rice among 4 bowls.
3: Heat the remaining 1 tablespoon of sesame oil in a large nonstick skillet over medium heat. Working in batches if necessary, add the patties, spacing them about 1 inch apart. Cook the burgers until browned on the outside and cooked through, about 3 minutes per side for medium. Arrange 3 burgers on top of each bowl of rice and keep warm (loosely cover with aluminum foil).
4: Pour off and discard all but about 1 tablespoon of the burger fat from the skillet. Add the remaining scallions, ginger, and garlic and the hot pepper flakes to the skillet and cook over medium-high heat until aromatic and browned, 1 to 2 minutes. Add the mirin and boil for 1 minute. Stir in the remaining 2 tablespoons of soy sauce and hoisin sauce and the beef stock and sugar and boil for 2 minutes to merge the flavors. Whisk the cornstarch mixture into the gravy and boil until slightly thickened, about 30 seconds, whisking steadily. Taste for seasoning, adding more soy sauce and/or sugar as necessary. Pour the gravy over the burgers and rice.
5: Rinse out the skillet and wipe it clean. Melt the butter in the skillet over high heat. Crack the eggs into the skillet and fry them to taste: 2 minutes for sunny-side up, 3 minutes for over-easy. Slide 1 egg into each bowl over the burgers. Sprinkle the reserved scallion greens on top and dig in.
Find This Recipe
And More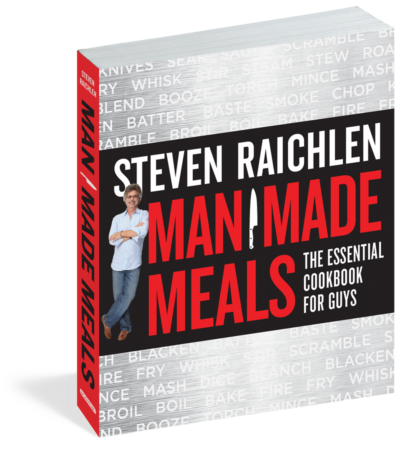 Man Made Meals is about the tools and techniques (guess what, grillers, you still get to play with knives and fire.) …
Buy Now ‣