Mango Macadamia Crisp
Steven Raichlen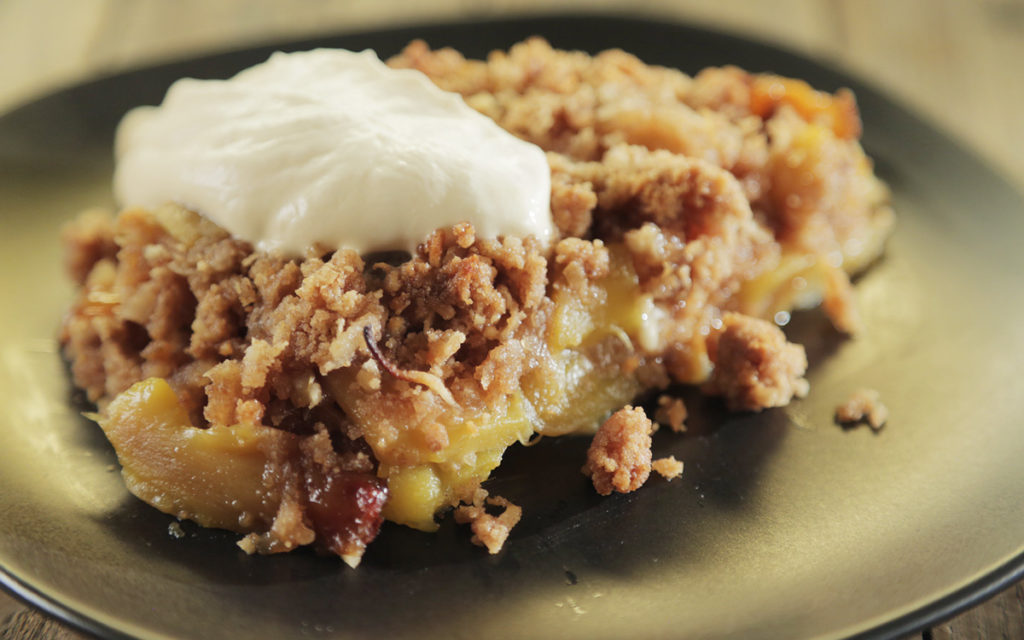 Dessert is a dish people don't normally smoke. Here's a dessert recipe that comes straight off my mango tree in Miami. Make dessert on the grill with this tropical fruit crisp recipe with fresh mango, coconut, ginger and a macadamia nut crust. Serve it with Smoked Whipped Cream.
More Grilled and Smoked Dessert Recipes:
Print
Mango Macadamia Crisp
Recipe Notes
Yield: Serves 8
Method: Indirect grilling
Equipment: One well-seasoned 10-inch cast iron skillet; 2 cups wood chips or chunks, soaked for 1 hour in water to cover, then drained; CO2 charger (optional)
Ingredients
5 cups peeled, pitted, and thinly sliced fresh ripe mangoes (5 to 6 mangoes)
1/4 cup brown sugar, or to taste
2 tablespoons all-purpose flour
Grated zest and juice of 2 limes
2 tablespoons minced candied ginger
For the topping:
8 tablespoons (1 stick) cold butter
1/2 cup crushed shortbread or other butter cookies
1/2 cup coarsely chopped macadamia nuts
1/4 cup firmly packed brown sugar
1/4 cup all-purpose flour
1 teaspoon cinnamon
1/2 cup shredded sweetened coconut
Pinch of salt
Whipped cream or vanilla ice cream, for serving (optional)
Recipe Steps
Step 1: Place the fruit in a nonreactive bowl. Add the 1/4 cup brown sugar, flour, lime zest, lime juice, and candied ginger. Stir to mix, adding sugar to taste. Spoon into the cast iron skillet.
Step 2: In the bowl of a food processor fitted with the metal blade, combine the butter, shortbread, nuts, brown sugar, cinnamon, and salt. Pulse until the mixture is coarse and crumbly. The butter should form pea-size pieces. Do not over-process, or the mixture will become gummy. Add the coconut and pulse for a few seconds just to mix. Spoon this mixture evenly over the fruit in the skillet.
Step 3: Set up the grill for indirect grilling and preheat to medium-high. If using a gas grill, place all of the wood chips or chunks in the smoker box or in a smoker pouch and run the grill on high until you see smoke, then reduce the heat to medium-high. If using a charcoal grill, preheat it to medium-high, then toss all of the wood chips or chunks on the coals.
Step 4: When ready to cook, place the skillet in the center of the hot grate away from the heat and cover the grill. Cook the crisp until the filling is bubbling and the topping is nicely browned, 40 to 60 minutes. Let the crisp cool for a few minutes. Serve with whipped cream or vanilla ice cream, if desired.
Recipe Tips
Serve with Smoked Ice Cream.