Marinated Veal Chops with Catalan Vinaigrette
Steven Raichlen
Print
Marinated Veal Chops with Catalan Vinaigrette
Recipe Notes
Yield: Serves 4 generously
Method: Direct grilling
Equipment: Wood chunks for building a fire or 2 cups wood chips (preferably oak, cherry, or apple), unsoaked
Ingredients
1 lemon
4 ribeye steaks, bone-in; 1-1/2 inch thick; 16 to 20 ounces each)
3 to 4 tablespoons extra-virgin olive oil
Catalan Vinaigrette (for serving)
Recipe Steps
Step 1: Rub should be equal parts coarse salt, cracked pepper, oregano, dried rosemary, and lemon zest. Drizzle with olive oil.
Step 2: Remove 8 strips of zest from the lemon with a vegetable peeler. Cut the lemon in half.
Step 3: Put the steak between two pieces of plastic wrap and pound to a thickness of 3/4-inch using the side of a heavy cleaver or with a scallopini pounder. Arrange the steaks in a large nonreactive baking dish and drizzle olive oil over them, turning the steaks several times to coat evenly. Place a strip of lemon zest and a sprig of thyme under and on top of each steak and squeeze the lemon evenly over all. Let marinate for 20 to 30 minutes while you light the grill.
Step 4: Set up the grill for direct grilling and preheat to high. If possible, build your fire with wood chunks. If using a gas grill, place the wood chips in the smoker box or in a smoker pouch and preheat until you see smoke. When ready to cook, if using a charcoal grill and wood chips, toss the wood chips on the coals. Place the chops on the hot grill grate (reserve the lemon strips) and grill until cooked to taste, 6 to 8 minutes per side for medium-rare, rotating the chops 90 degrees after 3 minutes to obtain an attractive crosshatch of grill marks. Place a strip of the reserved lemon zest on each chop after turning them. Use the finger poke method to test for doneness, or insert an instant-read meat thermometer into the side, being careful not to touch the bone; it should read 140 to 145 degrees for medium-rare. Transfer the chops to plates or a platter and let rest for 3 minutes before serving.
Find This Recipe
And More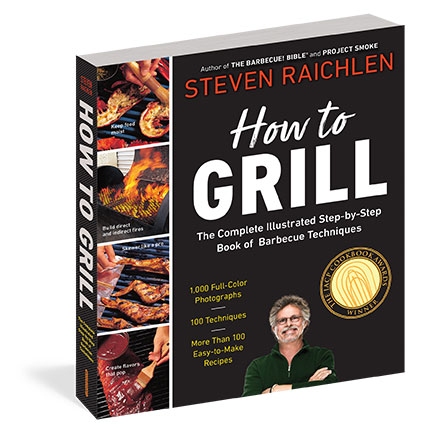 Without a doubt the most interesting, comprehensive, and well-thought-out book on grilling ever and it's destined to be in the …
Buy Now ‣