Oaxacan Pork Fajitas
Steven Raichlen
It's hard to remember American cuisine without fajitas, but there was a time when you had to travel to Texas (specifically to Ninfa's restaurant in Houston) to try them. Who knew that a cheap cut of beef—the skirt steak—would become a popular party food? (Fajita means "little girdle" in Spanish.) Here's a pork version, fragrant with cinnamon, orange, and ancho chiles.
Print
Oaxacan Pork Fajitas
Recipe Notes
Yield: Serves 4 to 6
Equipment: Your basic kitchen gear including a blender and a nonreactive (that is, glass, ceramic, or stainless steel) baking pan for marinating the pork, plus a grill, a clothlined basket for keeping the tortillas warm, a large (10- or 12-inch) cast-iron skillet and a trivet (both optional), and a pair of tongs for serving
Ingredients
For the pork and marinade:
2 pounds boneless pork shoulder, loin, or tenderloin, sliced as thinly as possible
1/3 cup pure ancho or pasilla chile powder
1/4 cup distilled white vinegar
1/4 cup fresh orange juice
4 cloves garlic, peeled and minced
1 teaspoon coarse salt (kosher or sea)
1 teaspoon freshly ground black pepper
1 teaspoon dried oregano
1/2 teaspoon ground cumin
1/2 teaspoon ground cinnamon
For the vegetables:
2 poblano peppers, or 1 green bell pepper
1 red bell pepper
1 yellow bell pepper
1 large sweet onion, peeled, but root intact, cut into 6 wedges
1 bunch scallions, trimmed
For serving:
12 small (7-inch) flour tortillas if serving 4 people; 18 if serving 6 people
2 cups Pico de Gallo or Salsa Chipotle, or your favorite store-bought salsa
1 cup sour cream or Mexican crema
1 bunch fresh cilantro, rinsed, stemmed, and coarsely chopped
2 limes, cut into wedges
Recipe Steps
Step 1: Prepare the pork and marinade: Place the pork in a nonreactive baking pan. Place the chile powder, vinegar, orange juice, garlic, salt, black pepper, oregano, cumin, and cinnamon in a blender and blend until smooth. Pour the marinade over the pork, turning the pieces to coat well. Let the pork marinate, covered, in the refrigerator for 1 to 4 hours.
Step 2: Grill the vegetables: Set up the grill for direct grilling and preheat it to high.
Step 3: When ready to grill, brush and oil the grill grate. Place the poblano peppers and bell peppers on the grate and grill until darkly browned on all sides, turning with tongs, about 15 minutes. Transfer the grilled peppers to a cutting board and let them cool. Meanwhile, grill the onion wedges and scallions until browned, 2 to 4 minutes per side, turning with tongs. When the peppers are cool, stem and seed them. Cut the peppers and onions into thin (1/2-inch) strips. Cut the scallions into 2-inch pieces. The vegetables can be grilled up to 30 minutes ahead. If grilling ahead on a charcoal grill, you may need to add fresh coals.
Step 4: Just before serving, heat the skillet in a 400°F oven for 10 minutes. (Or preheat the skillet on the grill.) Warm the tortillas (10 to 15 seconds per side), and place in the clothlined basket. Place the salsa, sour cream, and cilantro in separate small bowls with serving spoons.
Step 5: Just before serving, drain the pork slices well. Arrange on the hot grate and grill them until browned and cooked through, 2 minutes per side. Transfer the grilled pork to a cutting board and cut it into thin strips. You can serve the fajita ingredients hot off the grill. Or, for the sizzling platter effect, arrange the slivered pork and the vegetables in the preheated skillet and place the skillet on a trivet. Use tongs to load up the tortillas with sliced pork and grilled veggies. Top the fajitas with salsa, sour cream, and cilantro, and serve with lime wedges for squeezing.
Recipe Tips
Crema is Mexican sour cream. (It's a little more sour and pungent than American sour cream.) Look for it in Hispanic markets.
Pure powdered ancho or pasilla chiles are available in some supermarkets, but if you can't find them, substitute regular pure chile powder.
Find This Recipe
And More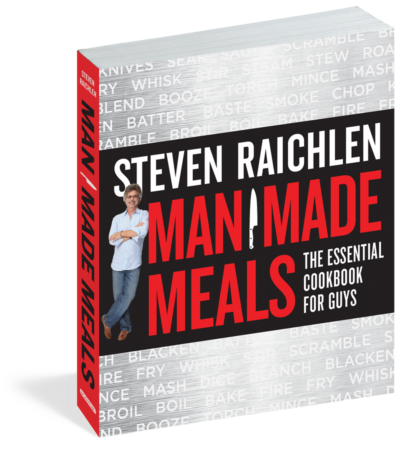 Man Made Meals is about the tools and techniques (guess what, grillers, you still get to play with knives and fire.) …
Buy Now ‣