Pebre
Steven Raichlen
Pebre is the southernmost member of a family of fresh salsas that includes Colombian aji and Brazilian molho à campanha.
Print
Pebre
Recipe Notes
Advance Prep: Can be made up to 4 hours in advance
Yield: Serves 4 to 6
Ingredients
2 red ripe tomatoes
1 poblano pepper, or 2 Anaheim peppers
2 scallions, both white and green parts, trimmed
1/2 cup chopped fresh cilantro
1/2 cup extra-virgin olive oil, preferable Chilean
Juice of 1 lemon, or more to taste
Coarse salt (kosher or sea) and freshly ground black pepper
Recipe Steps
Step 1: Cut each tomato in half and wring out the pulp and seeds. For a milder pebre, seed the pepper(s); personally, I'd leave them in. Very finely chop the tomatoes, pepper(s), and scallions. A Chilean would do this by hand, but you can also use a food processor, running the machine in short bursts. If you use a processor, cut the vegetables into 1-inch pieces before processing.
Step 2: Transfer the chopped vegetables to a mixing bowl and stir in the cilantro, olive oil, and lemon juice. Taste for seasoning, adding salt and black pepper to taste and more lemon juice as necessary; the pebre should be highly seasoned.
Step 3: You can make the pebre up to 4 hours ahead; taste it for seasoning before serving, adding more salt and/or pepper as necessary.
Recipe Tips
Try these other Latin American sauces and condiments:
Find This Recipe
And More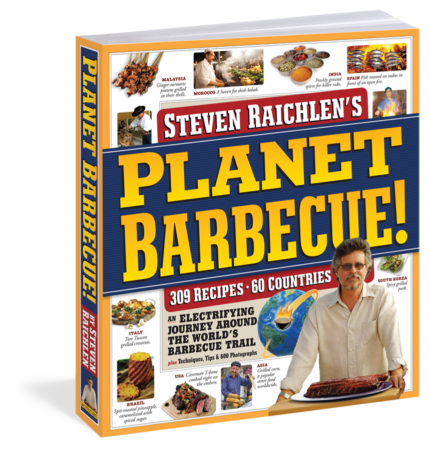 The most ambitious book yet by America's bestselling, award-winning grill expert whose Barbecue! Bible books have over 4 million copies …
Buy Now ‣