Reverse Seared Tri-Tip
Steven Raichlen
The traditional wood in tri-tip's birthplace, Santa Maria, California, is red oak. Any hardwood will work—you'll need enough for 1 hour of smoking.
In Santa Maria, tri-tip is direct grilled over a gentle oak wood fire, which both smokes and grills the meat. If you have a wood-burning grill, this is another great way to cook this singular steak. Tri-tip is traditionally served with salsa; grilled garlic bread; and pinquito beans (see recipe in BBQ USA).
Print
Reverse Seared Tri-Tip
Recipe Notes
Yield: Serves 4 to 6
Equipment: A smoker that has grilling capabilities (like a charcoal grill, kamado cooker, or offset barrel smoker with a grate over the firebox); a remote instant read meat thermometer
Ingredients
1 large beef tri-tip (2 to 2-1/2 pounds)
1 tablespoon extra virgin olive oil (or as needed)
For the rub:
2 teaspoons coarse sea salt
2 teaspoons freshly ground black pepper
2 teaspoons garlic powder
2 teaspoons dried rosemary (crumbled between your fingers)
1 teaspoon dried oregano
Recipe Steps
Step 1: Set up your smoker following the manufacturer's instructions and preheat to 225 degrees. Add the wood as specified by the manufacturer.
Step 2: Combine the ingredients for the rub in a small bowl and stir to mix. Place the tri-tip in a baking dish and sprinkle on all sides with the rub, patting it into the meat with your fingertips. Insert the remote thermometer probe through one end of the tri-tip deep into the center.
Step 3: Place the tri-tip in the smoker as far away from fire as possible. Smoke the tri-tip until the internal temperature reaches 110 degrees, 45 minutes to 1 hour.
Step 4: Transfer the tri-tip to a wire rack over a foil pan and let rest, loosely tented with foil, for at least 10 minutes or up to a half hour.
Step 5: Meanwhile, set up your smoker or grill for direct grilling and heat to high.
Step 6: Lightly brush or drizzle the tri-tip on both sides with olive oil. Place it on the grate over the fire and direct grill until the top and bottom are sizzling and darkly crusted and the internal temperature reaches 125 degrees (for rare) and 135 degrees (for medium-rare). If you like, give the tri-tip a quarter turn on each side halfway through searing to lay on a crosshatch of grill marks.
Step 7: Serve the tri-tip hot off the grill very thinly sliced across the grain. (There's no need to let it rest—you did so after smoking.)
Recipe Tips
Find This Recipe
And More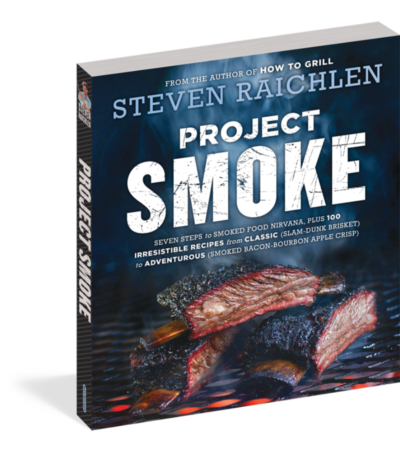 New York Times Bestseller Project Smoke is the How to Grill of smoking, both a complete step-by-step guide to mastering …
Buy Now ‣