Smoke-Roasted Leg of Lamb Provencale
Steven Raichlen
Print
Smoke-Roasted Leg of Lamb Provencale
Recipe Notes
Yield: Serves 6 to 8
Method: Indirect grilling
Equipment: 2 cups wood chips (optional; preferably oak), soaked for 1 hour in water to cover, then drained; spray bottle
Ingredients
1 bunch of fresh rosemary
1 small or 1/2 large bone-in leg of lamb (4 to 5 pounds)
6 cloves garlic, cut into slivers
6 kalamata olives, cut into slivers and frozen
Extra-virgin olive oil in a spray bottle, plus 3 to 4 tablespoons for basting
1 tablespoon coarse salt
1 tablespoon homemade Herbes de Provence, or a commercial brand
1 teaspoon cracked black peppercorns
Recipe Steps
Step 1: Strip the leaves off 2 rosemary sprigs. Finely chop the leaves of 1 sprig. Set aside the remainder of the bunch of rosemary.
Step 2: Using the tip of a sharp, slender knife, make a series of 1/2-inch deep holes in the lamb, mostly in the sheath of fat on top, but also on the sides and bottom. The holes should be about 1 inch apart. Insert the garlic, olives, and whole rosemary leaves in the holes, one flavoring per hole.
Step 3: Spray the leg of lamb on all sides with the oil. Combine the salt, herbes de provence, peppercorns, and chopped rosemary leaves and sprinkle them all over the lamb, patting them on with your fingertips.
Step 4: Set up the grill for indirect grilling and preheat to medium. If using a charcoal grill, place a drip pan in the center. If using a gas grill, place all the wood chips, if desired, in the smoker box or in a smoker pouch and preheat on high until you see smoke, then reduce the heat to medium.
Step 5: When ready to cook, if using a charcoal grill, toss half of the wood chips, if desired, on the coals. Place the lamb on the hot grate, away from the heat, and cover the grill. Grill until cooked to taste, 1-1/2 to 2 hours for medium-rare. Every 30 minutes, baste the leg of lamb with oil, using the remaining rosemary sprigs as a basting brush. To test for doneness, insert an instant-read meat thermometer into the thickest part of the leg, but not touching the bone; the internal temperature will be about 125 degrees F for rare, 145 degrees F for medium-rare; and 160 degrees F for medium. If using a charcoal grill, you'll need to add 12 fresh coals and 1/2 cup wood chips to each side after 1 hour of grilling.
Step 6: Transfer the lamb to a cutting board, let rest for 10 minutes, then carve and serve.
Find This Recipe
And More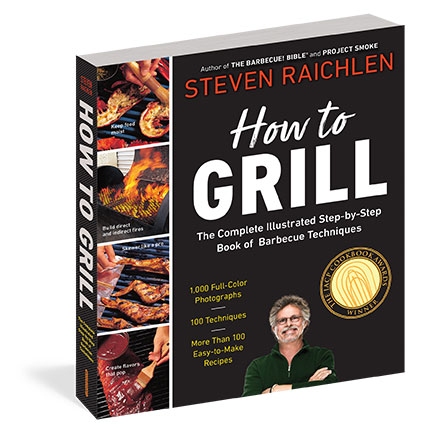 Without a doubt the most interesting, comprehensive, and well-thought-out book on grilling ever and it's destined to be in the kitchens and backyards of both professionals and home cooks. Every detail is made clear and easy in a concise and inspirational way. Spark it up! (Mario Batali, Molto Mario (The Food Network), Mario Batali's Simple […]
Buy Now ‣