Smoked Shrimp Cocktail with Chipotle Orange Sauce
Steven Raichlen
I've never understood the appeal of traditional shrimp cocktail. Boiling is a terrible way to boost flavor, but season the shrimp with garlic and cilantro and smoke it with mesquite — now you have my interest. Serve it with a Chipotle Orange Cocktail Sauce from the Yucatan. Now that's a shrimp cocktail.
Print
Smoked Shrimp Cocktail with Chipotle Orange Sauce
Recipe Notes
Yield: Serves 4 to 6 as an appetizer
Method: Hot smoking
Equipment: Bradley digital smoker; oak or alder wood; bamboo skewers
Ingredients
1 1/2 pounds jumbo shrimp (about 18 shrimp), peeled and deveined
3 tablespoons chopped fresh cilantro or parsley
2 cloves garlic or 2 scallions, minced
1 to 2 teaspoons minced canned chipotle chile, plus 1 to 2 teaspoons juices
Coarse salt (kosher or sea) and cracked black pepper
2 tablespoons extra virgin olive oil
2 tablespoons fresh lime juice
4 tablespoons butter, melted (optional)
For the cocktail sauce:
1 cup ketchup
6 tablespoons fresh orange juice
2 tablespoons fresh lime juice
1 tablespoon Worcestershire sauce
1 to 2 chipotle chiles, minced, plus 1 to 2 teaspoons can juices
Coarse salt and freshly ground black pepper
3 tablespoons diced white onion
6 sprigs fresh cilantro
Recipe Steps
Step 1: Place the shrimp, cilantro, garlic, minced chipotle with juices, salt, and pepper in a mixing bowl and toss to mix. Stir in the olive oil and lime juice and let marinate for 15 minutes.
Step 2: Meanwhile, place the ingredients for the cocktail sauce in a mixing bowl and whisk to mix. Correct the seasoning, adding salt or lime juice to taste. Thread the shrimp onto skewers.
Step 3: Set up your smoker following the manufacturer's instructions and preheat to 250 degrees. Add the wood as specified by the manufacturer.
Step 4: Smoke the shrimp until bronzed with smoke and cooked through, about 30 minutes to 40 minutes. If desired, baste with melted butter as they cook. Divide the cocktail sauce between small bowls or martini glasses. Arrange the shrimp skewers around them. Sprinkle the onion and cilantro sprigs over the sauce and serve at once.
Recipe Tips
Find This Recipe
And More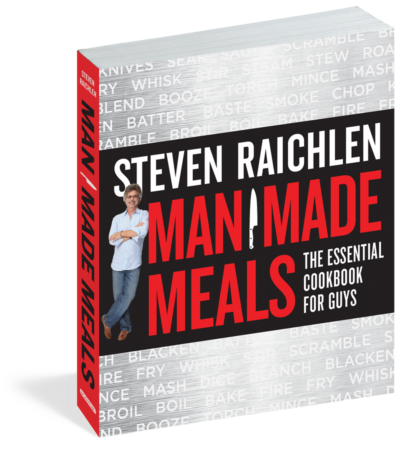 Man Made Meals is about the tools and techniques (guess what, grillers, you still get to play with knives and fire.) …
Buy Now ‣