Green Lightning Shrimp Tacos
Steven Raichlen
Print
Green Lightning Shrimp Tacos
Recipe Notes
Advance Prep: 30 minutes for marinating the shrimp
Yield: Serves 6 to 8
Method: Direct grilling
Equipment: A vegetable grill basket or bamboo or metal skewers
Ingredients
2 1/2 pounds jumbo shrimp
1 small bunch cilantro, rinsed, stemmed, and coarsely chopped
4 jalapeño peppers, seeded and coarsely chopped (for hotter shrimp, leave the seeds in)
3 scallions, both white and green parts, trimmed and coarsely chopped
3 cloves garlic, coarsely chopped
1 1/2 teaspoons coarse salt (kosher or sea)
1 teaspoon freshly ground black pepper
1 teaspoon ground cumin
1/2 cup extra virgin olive oil
1/2 cup fresh lime juice
8 small flour or corn tortillas, warmed, for serving
Finely shredded green or red cabbage
Sour cream or Mexican crema, for serving
Lime wedges, for serving
Recipe Steps
Step 1: Rinse the shrimp under cold running water and then drain and blot them dry with paper towels. Peel and devein the shrimp. Place in a large resealable plastic bag.
Step 2: Place the cilantro, jalapeños, scallions, chopped garlic, salt, black pepper, and cumin in a blender or food processor and finely chop. With the machine running, add the olive oil and lime juice through the feed tube and purée to a bright green paste. Pour the marinade over the shrimp and let them marinate in the refrigerator, covered, for 30 minutes, turning the bag once or twice so they marinate evenly. (If not using a vegetable grill basket to grill the shrimp, thread them on bamboo or metal skewers.)
Step 3: Set up the grill for direct grilling and preheat to medium-high.
Step 4: When ready to cook, brush and oil the grill grate. Drain the marinade from the shrimp and discard the marinade. Place the shrimp in a single layer in the grill basket—don't crowd—and grill until just cooked through, 2 to 3 minutes per side, turning the shrimp with a spatula or wooden spoon. Work in batches if necessary. (Alternatively, place the skewers on the grill grate and grill 2 to 3 minutes per side.) When done, the shrimp will turn pinkish white and feel firm to the touch. Immediately transfer the grilled shrimp to a platter or bowl.
Step 5: To assemble a taco, put several shrimp in a warmed tortilla. Top with shredded cabbage and a dollop of sour cream. Serve with lime wedges.
Recipe Tips
Find This Recipe
And More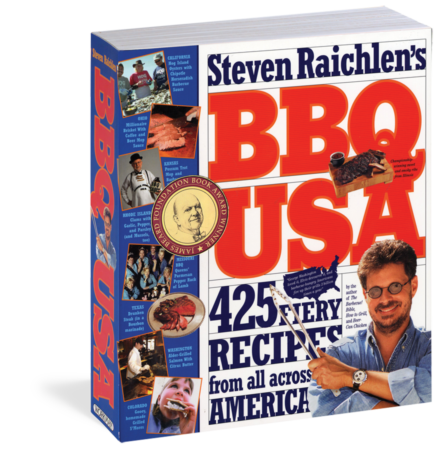 Steven Raichlen, a national barbecue treasure and author of The Barbecue! Bible, How to Grill, and other books in the Barbecue! Bible series, embarks on a quest to find the soul of American barbecue, from barbecue-belt classics-Lone Star Brisket, Lexington Pulled Pork, K.C. Pepper Rub, Tennessee Mop Sauce-to the grilling genius of backyards, tailgate parties, […]
Buy Now ‣