Spit-Roasted Pork Paprikas
Steven Raichlen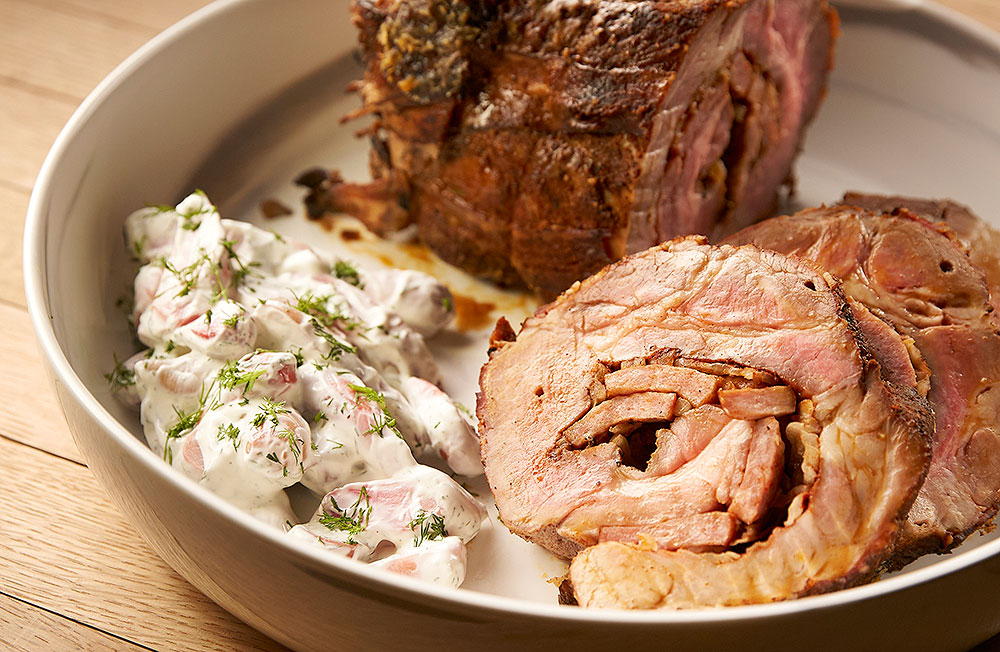 Other Recipes from Episode 407: Spits and Skewers
Print
Spit-Roasted Pork Paprikas
Recipe Notes
Yield: Serves 8
Method: Indirect grilling
Ingredients
1 boneless pork shoulder roast or pork loin (4 to 5 pounds)
Coarse sea salt and freshly ground black pepper
Hungarian sweet paprika
1 sweet onion, thinly sliced crosswise
1 8-inch length of kielbasa (about 12 ounces)
6 strips bacon
You'll also need:
butchers string; a rotisserie; wood logs, chunks or chips (about 2 cups of the latter)—ideally beech wood 
Recipe Steps
1: Butterfly the pork—that is, make a lengthwise cut through one side almost to but not through the other side, holding the knife blade parallel to the cutting board.    Open the pork roast as you would a book.     Using the side of a heavy cleaver, a scallopini pounder, or a rolling pin, lightly flatten the butterflied pork.   Generously season the bottom side of the pork with salt, pepper, and paprika and turn it over. 
2: Generously season the inside of the pork with salt, pepper, and paprika.   Arrange half the onion slices on top of one half of the butterflied pork.   Line the kielbasa down the center (running lengthwise to the roast).    Place more onion on top.   Fold the other side over the pork to return it to its original cylindrical shape. 
3: Arrange 4 pieces of butcher string (each about 14 inches long) on your cutting board, each parallel to the other.   Lay a strip of bacon down the center, perpendicular to the string.   Place the stuffed pork roast on top.   Place strips of bacon on the sides and top of the roast.   Brine the ends of the string over and tie into a tight cylinder. 
4: Set up your grill for spit-roasting.   Ideally, you'll be working over a wood or wood enhanced fire.   Once you have a good bed of embers, thread the pork roast crosswise onto a rotisserie spit, securing it with the prongs.    Spit-roast it over the fire (it should be about 18 inches above the embers.    Replenish the fire often with beech logs so the pork cooks amid flames and smoke.    Cook the pork until crusty and browned on the outside and the internal temperature reaches 180 degrees F.    This will take about 1 hour.   
5: Transfer the pork roast to a cutting board and let rest for 5 minutes.    Remove the strings and carve the roast crosswise into 1/4-inch thick slices.    Admire the smoke ring.    Serve with the Icicle Radish Salad on the side.
Recipe Tips