Yellow Chile Peanut Sauce (Aji Amarillo)
Steven Raichlen
A fiery dip, made with aji amarillo (Peruvian yellow chiles), is the traditional sauce for anticuchos.
Print
Yellow Chile Peanut Sauce (Aji Amarillo)
Recipe Notes
Ingredients
5 fresh, frozen, or dried ajis amarillos (Peruvian yellow chiles), or 3/4 cup aji amarillo paste
3 tablespoons smooth peanut butter
1 small bunch huacatay, chopped, or 2 tablespoons each finely chopped fresh flat-leaf parsley and spearmint
2 tablespoons extra-virgin olive oil
1 tablespoon fresh lime juice, or to taste
Coarse salt (kosher or sea)
Recipe Steps
Step 1: If you are using frozen ajis amarillos, let them thaw at room temperature; this will take about 1 hour. If you are using dried ajis amarillos, soak them in water to cover for 2 hours, then drain. Stem the chiles and, if a milder sauce is desired, remove the seeds. place the chiles, peanut butter, and 1/2 cup of water in a blender and puree until smooth. Blend in the huacatay, running the blender in short bursts.
Step 2: Heat the olive oil in a saucepan over medium-low heat. Add the chile and peanut puree and cook, stirring often, until the sauce is thick, creamy, and richly flavored, 5 to 8 minutes. Lower the heat as needed; the sauce should simmer gently, not boil. Add the lime juice, if using, and season the sauce with salt to taste and more lime juice if needed; it should be highly seasoned and very hot. Serve the sauce warm or at room temperature. The sauce can be refrigerated, covered, for up to 3 days.
Recipe Tips
Try these other Latin American sauces and condiments:
Find This Recipe
And More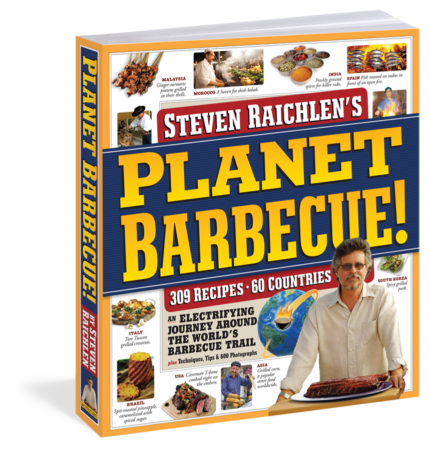 The most ambitious book yet by America's bestselling, award-winning grill expert whose Barbecue! Bible books have over 4 million copies …
Buy Now ‣