Char Siu Pork Tenderloin
Steven Raichlen
Char siu literally means "fork-roast"—a reference to an ancient Cantonese practice of roasting pork on fork-shaped skewers over charcoal.
More Chinese Barbecue Recipes:
Print
Char Siu Pork Tenderloin
Recipe Notes
Yield: Serves 6 to 8 as a starter, 4 as a main course
Method: Hot-smoking
Equipment: An instant-read thermometer; cherry or apple wood (enough for 1 hour of smoking)
Ingredients
For the pork and rub:
2 pounds pork tenderloin
3 tablespoons turbinado sugar or dark brown sugar
1 tablespoon Chinese five-spice powder
1 tablespoon freshly ground white pepper
For the marinade:
3 tablespoons honey
3 tablespoons soy sauce
2 tablespoons oyster sauce
2 tablespoons rice wine (shaoxing), sake, or dry sherry
1 tablespoon Asian (dark) sesame oil
1 tablespoon hoisin sauce (optional)
Vegetable oil, for oiling the smoker rack
For serving (optional):
2 scallions, trimmed, white and green parts thinly sliced crosswise
1 tablespoon toasted sesame seeds
½ cup prepared Chinese mustard
Recipe Steps
Step 1: Cut the pork with the grain into strips about 8 inches long and 1½ inches wide and thick. Place them in a large bowl.
Step 2: Make the rub: Place the sugar, five-spice powder, and pepper in a small bowl and mix with your fingers. Sprinkle over the pork and rub it in with your fingers to season the strips well on all sides.
Step 3: Make the marinade: Place the honey, soy sauce, oyster sauce, rice wine, sesame oil, and hoisin sauce, if using, in a small bowl and mix well. Pour over the pork, turning the strips to coat. Cover the pork with plastic wrap and marinate for 6 to 8 hours in the refrigerator.
Step 4: Set up your smoker following the manufacturer's instructions and preheat to 225° to 250°F. Add the wood as specified by the manufacturer.
Step 5: Oil the smoker rack. Drain the pork well, reserving the marinade in a small saucepan. Place the pork directly on the rack and smoke for 1 hour. Meanwhile, bring the marinade to a boil over medium-high heat and boil for 3 minutes. Now you can safely use it as a baste. Let cool slightly.
Step 6: Brush the pork on all sides with the marinade and continue smoking until the internal temperature reaches 160°F, 15 to 30 minutes more. (Use an instant-read thermometer inserted through the end of the strips to check the temperature.) Transfer the pork to a platter and drizzle with any remaining marinade.
Step 7: To serve, sprinkle with the scallions and sesame seeds, if using. For an appetizer, impale the pork strips on toothpicks. Many people (including me) like to accompany char siu with Chinese mustard.
Recipe Tips
Want a fattier version? The rub and marinade are excellent on spareribs and baby backs.
Note that the char siu you order in Chinese restaurants often has a reddish hue, achieved with a few drops of red food coloring in the marinade. I don't bother, but you can if you like.

Find This Recipe
And More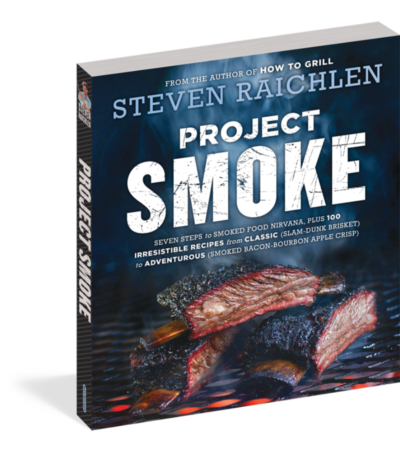 New York Times Bestseller Project Smoke is the How to Grill of smoking, both a complete step-by-step guide to mastering …
Buy Now ‣