Pork Belly Steamed Buns
Steven Raichlen
This smoked pork belly is served Asian style in steamed buns with Hoisin barbecue sauce. Recipe from Episode 203 of Steven Raichlen's Project Smoke.
More Asian-Inspired Barbecue Recipes:
Print
Pork Belly Steamed Buns
Recipe Notes
Yield: Serves 6
Method: Hot-smoking
Ingredients
A 3-pound section of pork belly
For serving:
12 Asian-style steamed pork buns
2 cucumbers, peeled, seeded, and cut into matchstick slivers
1 bunch scallions, trimmed and sliced sharply on the diagonal
3 tablespoons sesame seeds, toasted, for serving
Recipe Steps
Step 1: Remove the skin from the pork belly (if still on). Score both sides, cutting a 1-inch crosshatch pattern with cuts 1/4-inch deep.
Step 2: Sprinkle the rub over the top, bottom, and sides of the pork belly, rubbing it into the meat with your fingers.
Step 3: Set up your smoker, following the manufacturer's instructions, and preheat to 225 degrees F. Add the wood as specified by the manufacturer.
Step 4: Smoke the pork belly fat side up until bronzed with smoke and the internal temperature is 165 degrees F. This will take about 3 to 3-1/2 hours.
Step 5: Cut the pork belly crosswise (against the grain) into 1/2-inch thick slices. Lightly season each slice on both sides with salt and pepper.
Step 6: Meanwhile, set up your grill for direct grilling and preheat to high. Ideally, you'll be grilling over wood; or add some wood chunks to your fire.
Step 7: Arrange the pork belly strips on the grate on the diagonal and grill until sizzling and browned on both sides, about 2 minutes per side. (Give each slice a quarter turn after 1 minute to lay on a crosshatch of grill marks.) Don't over-crowd your grill. The melting fat may cause flare-ups—you want to leave yourself plenty of maneuvering room to dodge the flames.
Step 8: To finish the steamed buns, fill each with sliced pork belly (1- by 2-inch squares). Add a spoonful of Hoisin Barbecue Sauce. Top with cucumber, scallion, and sesame seeds.
Recipe Tips
Cook with 5-4-3-2-1 Asian Barbecue Rub and serve with Hoisin Barbecue Sauce.

Find This Recipe
And More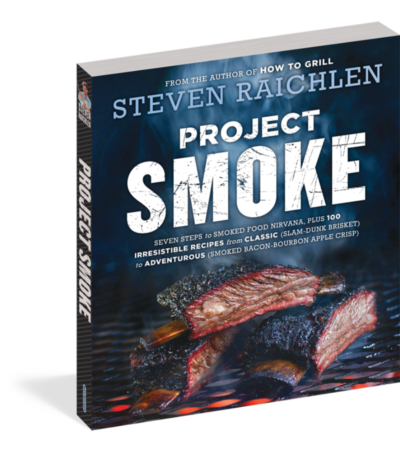 New York Times Bestseller Project Smoke is the How to Grill of smoking, both a complete step-by-step guide to mastering …
Buy Now ‣