Salsa Verde
Steven Raichlen
Mexico's ubiquitous "green salsa," salsa verde is made with a ground cherrylike fruit called tomatillo that's prized for its refreshing tartness (it's available in most supermarkets). Tradition calls for the tomatillos to be roasted on a comal (flat skillet) or boiled, but you'll get even more flavor if you grill them.
Print
Salsa Verde
Recipe Notes
Yield: Makes about 2 cups
Ingredients
1 pound fresh tomatillos, papery husks removed
2 to 4 jalapeño or serrano peppers, or 1 poblano pepper
1/2 medium-size onion, cut in half, each half skewered on a wooden toothpick
3 cloves garlic, peeled and skewered on a wooden toothpick
1/2 cup loosely packed chopped fresh cilantro
1-1/2 tablespoons lard or olive oil
1/2 cup chicken stock or vegetable stock
1/2 teaspoon sugar, or more to taste
Coarse salt (kosher or sea) and freshly ground black pepper
Recipe Steps
Step 1: Set up the grill for two-zone grilling. Preheat one zone to high and one zone to medium. Brush and oil the grill grate.
Step 2: Grill the tomatoes and chilies until darkly browned even blackened and blistered on all sides, 2 minutes per side, 6 to 8 minutes in all. Grill the onions and garlic until darkly browned and tender, 3 minutes per side, 6 to 9 minutes in all. Position the garlic in a cooler section of the grill so it browns without burning. Transfer the grilled vegetables to a plate.
Step 3: Seed the chilies. Remove and discard the toothpicks. Puree the tomatillos, chiles, onion, garlic, and cilantro in a food processor or blender. Don't worry about a few black specks of charred vegetable skin they'll add color and flavor.
Step 4: Heat the lard or oil in a large saucepan. Add the tomatillo puree and fry over high heat until the mixture is thick, slightly darkened, and highly aromatic, 3 to 5 minutes. Whisk in the stock and boil the salsa until thick and flavorful, 5 minutes. Whisk in the sugar and salt and pepper to taste: the salsa verde should be highly seasoned.
Recipe Tips
Find This Recipe
And More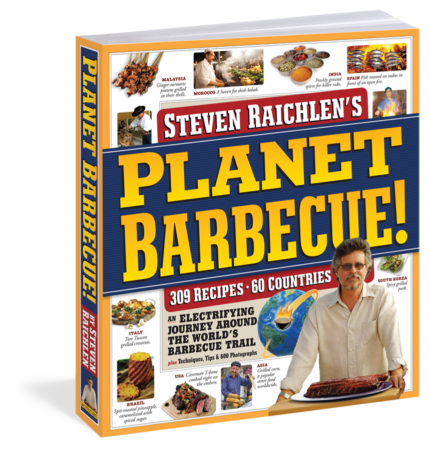 The most ambitious book yet by America's bestselling, award-winning grill expert whose Barbecue! Bible books have over 4 million copies …
Buy Now ‣