Dr Pepper Barbecue Sauce
Steven Raichlen
Barbecue sauces flavored with soda are a great American tradition. This one features the granddaddy of American soft drinks—Dr Pepper—which was invented in 1885, a year before Coke. The setting was Waco, Texas, then, also known as Six Shooter Junction. The place was Wade Morrison's Old Corner Drug Store, where a pharmacist named Charles Alderton combined spices, sweeteners, and carbonated water to come up with this uniquely American beverage.
As for the name, it was Wade Morrison's attempt to woo a Virginia girl he was courting (her father was Dr. Charles Pepper). His sweet, tart, aromatic soda possesses just the flavor profile you want in a barbecue sauce.
Serve this with Foolproof Barbecued Chicken.
Other Great Barbecue Sauce Recipes:
Print
Dr Pepper Barbecue Sauce
Recipe Notes
Yield: Makes about 2 cups
Ingredients
1 large juicy lemon
1 clove garlic, peeled and lightly crushed with the side of a cleaver
1 thin (1/4-inch) slice onion
1 cup Dr Pepper
¾ cup ketchup
3 tablespoons Worcestershire sauce
2 tablespoons A.1. steak sauce
1 tablespoon of your favorite hot sauce, or more to taste
1 tablespoon cider vinegar,or more to taste
1 teaspoon liquid smoke
1/2 teaspoons freshly ground black pepper
Coarse salt (kosher or sea)
Recipe Steps
1: Cut the lemon in half cross wise and cut a 1/4-inch slice off of one half. Remove any seeds in this slice. Juice the remaining lemon: You should have 2 to 3 tablespoons juice.
2: Place the lemon slice, 2 table spoons of the lemon juice, and the garlic, onion slice, Dr Pepper, ketchup, Worcestershire sauce, steak sauce, hot sauce, vinegar, liquid smoke, and pepper in a heavy nonreactive saucepan and gradually bring to a boil over medium heat.
3: Reduce the heat slightly to maintain a gentle simmer. Let the sauce simmer gently until thick and richly flavored, 10 to 15 minutes. Taste for seasoning, adding more lemon juice, hot sauce, and/or vinegar as necessary and seasoning with salt to taste, if desired.
4: Strain the sauce into a bowl (or clean glass jars) and let cool to room temperature, then refrigerate, covered, until serving. The sauce will keep for several months in the refrigerator.
5: Bring to room temperature before serving.
Find This Recipe
And More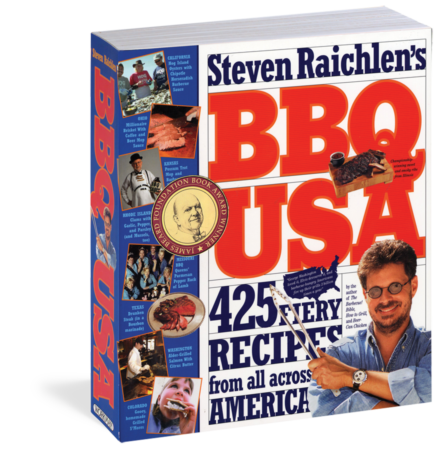 Steven Raichlen, a national barbecue treasure and author of The Barbecue! Bible, How to Grill, and other books in the Barbecue! Bible series, embarks on a quest to find the soul of American barbecue, from barbecue-belt classics-Lone Star Brisket, Lexington Pulled Pork, K.C. Pepper Rub, Tennessee Mop Sauce-to the grilling genius of backyards, tailgate parties, […]
Buy Now ‣