Hibachi Steak with Plancha Fried Rice
Steven Raichlen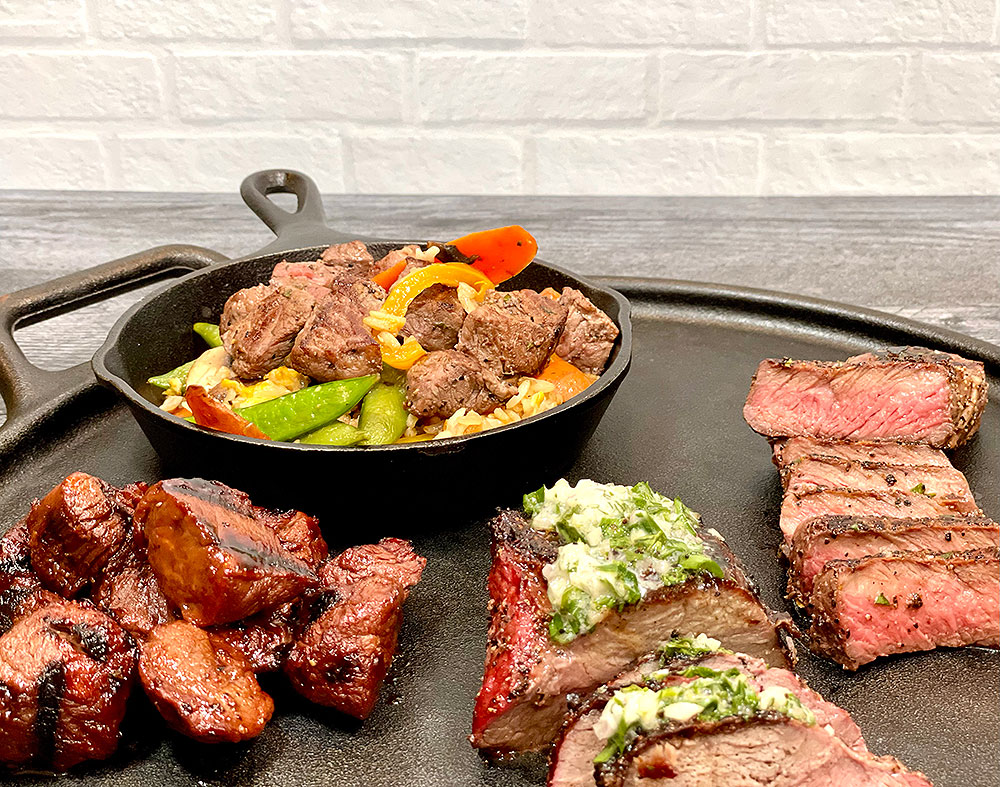 Print
Hibachi Steak with Plancha Fried Rice
Recipe Notes
Yield: Serves: 2
Method: Direct and Plancha grilling
Ingredients
8 ounces hibachi steak
3 cups cooked and cooled jasmine rice (make ahead)
3 to 4 cups of your favorite vegetables, cut into bite-size pieces
1 small sweet onion, peeled and finely diced
1 yellow bell pepper, stemmed, seeded and cut into 1/4 inch strips
1 cup sliced mushrooms, such as button mushrooms or shiitakes
1 to 1 1/2 cups snap beans or peas
2 carrots, trimmed, peeled, and sliced thinly on a bias
2 to 3 tablespoons soy sauce
2 tablespoons dark (Asian) sesame oil
2 tablespoons butter
1 large egg, beaten
Vegetable oil for the plancha
Recipe Steps
1: Cube the hibachi steak into one-inch pieces and season with kosher salt and freshly cracked black pepper.
2: Place a plancha on your grill and heat it to high. Or place a cast-iron pan or grill wok on your grill. Add the butter and sesame oil and sauté the sweet onion. Once the onion starts to brown add the other veggies to the plancha. Cook until the veggies start to brown.
3: Add the rice to the veggies. Once the rice starts to fry, mix in the egg. Once the egg is incorporated add the soy sauce. Cook for another 3 to 4 minutes.
4: Place the fried rice in a serving bowl. Keep warm.
5: Cook the hibachi steak on the plancha about 1 minute per side. Top the fried rice with the hibachi steak. Serve immediately.